75 Years On ~ War In the Pacific
THE BATTLE FOR AUSTRALIA
The month of August 1945, 75 years ago, finally saw World War Two coming to an end. A war that had been raging since September 1939. While Victory in Europe had already been achieved earlier with formal acceptance by the Allies of Nazi Germany's unconditional surrender of its armed forces on Tuesday, 8 May 1945, our war closer to home against the might of the Japanese invading forces continued to cost many lives.
War in the Pacifc raged from December 1941 following the Japanese attack on Pearl Harbour, Hawaii, as well as attacks on the Phillipines, Malaya, Thailand, Shanghai, Wake Island, Guam, and Midway. But it was 23rd January 1942 that our Battle for Australia moved very close to home when the Empire of Japan invaded the Australian-administered Mandated Territory of New Guinea, and then the Australian Territory of Papua on 21st July 42 and then overran Western New Guinea beginning 29th March 1942, which was a part of the Netherlands East Indies. What is generally referred to as The New Guinea Campaign lasted from that initial Japanese New Guinea attack until the Allies, consisting primarily of Australian and US forces, cleared the Japanese first from Papua, then the Mandate and finally from the Dutch colony. So War in the Pacific ended with Japan's acceptance of the Allied demand for unconditional surrender on 14th August 1945 and the Australian Government gazetted the following day, 15th August 1945, as a VP Day public holiday. The Governments of Britain, the United States and New Zealand preferred 'VJ Day' , ( Victory over Japan) but Australia went with VP Day.
In our war against the Japanese the total of Australian servicemen killed in action was 8,274 but when adding those who died from their wounds or died as prisoners of war, the total climbs to 17,501. But of course there were also casualties among the civilian population including the lives lost with the bombing of Darwin. Thirty Merchant ships were lost to enemy attack in Australian waters with a resulting 654 deaths.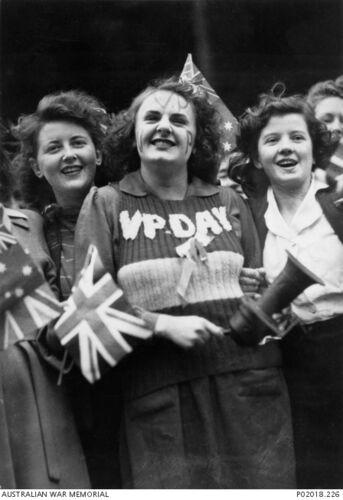 Of the airmen that trained at No 1 Wireless Air Gunners School at RAAF Ballarat during the Second World War, in addition to the many that lost their lives in Europe and Africa, 281 of them lost their lives in operations relating to our war closer to home against the Japanese, and that is just the Ballarat trained airmen. Of this total of 281 Killed in Action Ballarat trained airmen, a handful of those lost their lives on Australian soil with the rest losing their lives beyond our shores with most buried in foreign lands. Here is just one name of a locally born young man that trained here in Ballarat and subsequently lost his life in the defence of our nation in our Battle for Australia. Patrick Fraser STANLEY, Born Ballarat on 3rd November 1921, Enlisted in RAAF on 1st April 1943, Commenced No 1 Wireless Air Gunners Course No 46 at 1WAGS RAAF Ballarat commencing on 9th December 1943, Killed in Action as Flight Sergeant STANLEY P. F. on 5th July 1945 in a Flying Battle over Borneo. Buried in foreign soil at Labuan War Cemetery, Malaysia.
The picture on the right shows a Miss Lois Martin celebrating the end of the war on a Melbourne street, captured by a roving photographer. She stood out among the crowd with her handmade jumper and painted face. Lois at the time worked at the Kodak factory in Abbotsford, as did the girls either side of her in the photo, Betty Williams (left), and Carmel O'Connor, (right). Lois's knitted jumper is now on display at the Australian War Memorial in Canberra, having been donated to the AWM by her widower husband Bill Drew on the 50th anniversary of VP Day in 1995. Lois had knitted her jumper especially for the expected 'coming day', and she never wore it again.
Noel Hutchins, President, Air Force Association, Ballarat Branch