Flight Sergeant Lloyd George Freeman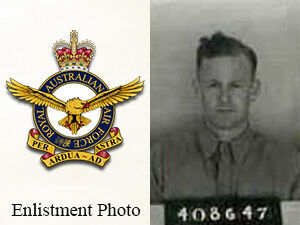 Lloyd George Freeman was born in Ballarat, Victoria on the 24 December 1918.
His parents were William and Margaret Freeman grazier via Buninyong. Lloyd was married to Alice Jane Freeman, of Brighton, Victoria.
Lloyd attended Grenville State School and Ballarat High School.
Lloyd Freeman enlisted in the RAAF on the 22 May 1940 in Melbourne, Victoria [service number 408647].
Prior to enlistment Lloyd's occupation was Bank Officer, National Bank.

Lloyd Freeman completed his initial RAAF training at No. 1 ITS Somers Victoria on the 23 May 1941.
He commenced training as a Wireless/Air Gunner at No. 1 Wireless Air Gunners School Ballarat on the 26 June 1941. He completed Courses 15 and 17 and graduated on the 3 May 1942. Twenty-eight of the seventy-nine trainees of Course 15 were killed in action or on active service. Twenty-one of the one hundred and eleven trainees in Course 17 were killed.
Lloyd Freeman was then posted to No. 2 Bombing Air Gunners School Port Pirie South Australia on the 9 March 1942. On the 22 May 1942 Lloyd was posted to No. 2 Air Navigation School [ANS] Nhill, Victoria and then 23 Squadron on the 23 March 1943. He was then posted to No. 2 Air Observers School [AOS] on the 26 May 1943.
Lloyd Freeman was posted to No. 6 Operational Training Unit Jervis Bay, NSW on the 24 December 1943.
On 17 January 1944, Lloyd and four other crew members flying a Bristol Beaufort A9-194 crashed at St George's Basin, near Nowra NSW, killing all on board.
The aircraft was making a landing approach when banked into a steep turn, its nose dropped, following which power was applied, but the aircraft dived and exploded on impact.
The crew members of A9-194 were:
Flight Sergeant Frank Harold Appeldore (416480) (Wireless Air Gunner)
Flight Sergeant John Frederick Francis Doepel (412925) (Pilot)
Flight Sergeant Lloyd George Freeman (408647) (Wireless Air Gunner)
Flight Sergeant John Francis Cokayne Frith (427082) (Observer)
Flying Officer Douglas William Thomas (285135) (Observer Instructor)Flight Sergeant
Flight Sergeant Lloyd Freeman was 25 years old. He is buried at the Nowra War Cemetery, NSW.
Roll of Honour: Ballarat VIC
Remembered: Panel 112, Commemorative Area, Australian War Memorial, Canberra ACT
Bibliography:
Wilson, S. (Stewart) Beaufort, Beaufighter and Mosquito in Australian Service, Aerospace Publications Weston Creek ACT 2611, 1990
Source: