Flight Sergeant Patrick Fraser Stanley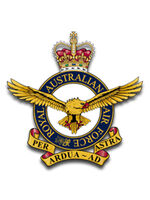 Patrick Fraser Stanley was born in Ballarat on the 3 November 1921 to parents John Joseph and Katherine May Stanley.
Patrick Stanley enlisted in the RAAF on the 1 April 1943 [Service no.430846]. He commenced training as a Wireless Operator/Air Gunner at No. 1 Wireless Air Gunners School Ballarat on the 9 December 1943, Course No. 46.
Five of the one-hundred and seven trainees were killed. Patrick completed his Wireless Operator training on the 13 September 1944 and proceeded to Air Gunners School.
Patrick Stanley was posted to RAAF 24 Squadron.
In March 1944, No. 24 Squadron was withdrawn to Australia to begin preparations to convert to the heavy bomber role equipped with Consolidated B-24 Liberator aircraft. The squadron was assigned to No. 82 Wing RAAF and flew its first combat sorties with these new aircraft in September 1944.
Operating from bases in the Northern Territory the squadron continued to fly bombing and anti-shipping strikes against Japanese forces in the Netherlands East Indies. A detachment deployed to Palawan, in the Philippines, and later in the war, the squadron deployed to Morotai Island and then Balikpapan to support Operation Oboe. Following the Japanese surrender No. 24 Squadron was used to ferry liberated Australian prisoners of war home before being disbanded at RAAF Station Tocumwal on 15 May 1946.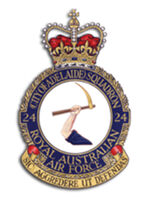 On the 5 July 1945 Liberator aircraft A72-196 flying two miles north of Sepinggang airfield (Balikpapan), was hit by light enemy anti-aircraft fire, and the aircraft then exploded in mid-air.
Squadron Leader Redman was the captain and he had a crew of ten RAAF airmen and also carried Captain Westgarth, an army observation officer.
None of the twelve crew was seen to escape by parachute and a second aircraft directed to the scene of the crash saw the wreckage burning furiously on the ground.
An army patrol got to within 150 yards of the wreckage, but was unable to penetrate farther because of enemy resistance.
Extract from Odgers, G.J. (George James) (VX127783) Air War Against Japan 1943-1945, Australian War Memorial, Canberra, 1957 – Page 486
The crew members of A72-196 were:
Pilot Officer Martin Allan Burrows (12720) (Flight Engineer)
Flight Sergeant Ronald Michael Cornelius (436789) (Wireless Air Gunner) 1WAGS Course 43
Warrant Officer Harold Allan Gooding (418040) (Co-Pilot)
Squadron Leader John Robert Walter Redman (402395) (Pilot)
Flight Sergeant Leslie Rogers (449787) (Air Gunner)
Flight Sergeant Frederick Leslie Rollings (438085) (Air Gunner)
Flight Sergeant Harold Shadforth (449303) (Air Gunner)
Flight Sergeant Rex Victor Skinner (407185) (Navigator Bomb Aimer)
Flight Sergeant Patrick Fraser Stanley (430846) (Wireless Air Gunner) 1 WAGS Course 46
Flight Sergeant Roy Tapper (434336) (Wireless Air Gunner)
Flight Sergeant James Ogilvie Ross Vickers (66185) (Navigator Bomb Aimer)
Captain Brian Dudley Westgarth (NX204346) (Australian Army) (Support Air Observer)
Patrick Fraser Stanley is Buried in foreign soil at Labuan War Cemetery, Malaysia.
He is Remembered: Panel 102, Commemorative Area, Australian War Memorial, Canberra ACT.
He was 23 years old.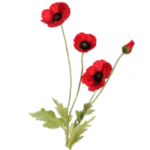 Sources: