Flying Officer Francis Noel Miller Petch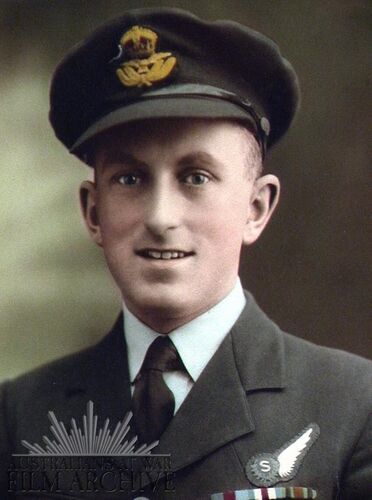 Francis Noel Miller Petch was born in Ballarat on the 24 December 1921. He was educated at Queen Street Public School and later at the Ballarat Grammar School through a scholarship. He was dux of the school in 1938. Frank's first job was a position at the Ballarat Trustees where he started as a message boy. At the age of 17 Frank was promoted to the position of acting manager of the Liverpool London and Globe Insurance Company, which the trustees were agents of. At the age of 18 he was called up to join the Army but accepted a job as accountant at the Ballarat Hospital.
On the 20 August 1942 Frank enlisted in the Royal Australian Air Force [service no. 419537].Frank had later said he wanted to join the Air Force ever since he was eight years old when he flew with the famous aviator Bert Hinkler when he visited Ballarat on his first solo flight from England to Australia in 1928.
After enlistment Frank did a rookie's course at Shepparton then to Corowa to do guard duty. Due to eyesight problems Frank was ruled out from pilot training and after Initial Training at Somers was posted to No. 1 W.A.G.S Ballarat. Here he passed Course 34/35 in Wireless. Frank began course thirty-four but ended up in hospital with bronchitis, so he resumed his training in Course 35. Twenty-one of the one hundred and seven trainees of Course 34 were killed and twenty-nine of the one hundred and seventy-five of Course 35 were killed.
Frank was then posted to Sale Victoria to complete the Gunnery Course flying in Fairy Battles aircraft.
After qualifying as a WAG Frank was posted to Bradfield Park Sydney and then Brisbane where he boarded the ship Matsonia to America. Once in New York he boarded the ship Queen Elizabeth to Brighton, England.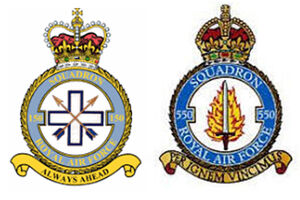 Whilst at Brighton Frank manned a machine gun on black out patrol. His next postings in England were a commando course at Whitley Bay, an Advanced Flying School in North Wales, an Operational Training Unit at Stafford and a Conversion Course for four engine planes [Halifax aircraft] at Sandtoft ["nick-named Prangtoft because of all the crashes of R.A.F bombers."] Frank then completed a short course on Lancaster [bombers] before joining the Bomber Command 550 Squadron R.A.F. Here he completed seventeen Operations.
Frank's first Operation was a bombing raid over Germany with several other Lancaster's from the 550 Squadron.
"Twilight came and it was eerie to see the grey shapes of Lancaster's all around us. We had pride in the fact that we were in a such a fleet that we thought would eventually win the war over Europe."
He then had a series of Operations of night flying to bomb airfields in Holland and anti-aircraft guns on Vlissingen Island, narrowly escaping being bombed by another R.A.F. bomber. On an Operation to Calais Frank's aircraft was ordered down to bomb from 3,000 feet however his plane bombed from 2,000 feet to ensure accuracy. Bombing Operations continued with a daylight raid on Essen and three consecutive trips to Cologne [one where Frank didn't have a parachute]. On a raid to Duisburg Frank counted 12 Lancaster aircraft hit. His crew were sent back to the same target resulting in 28 hours of flying duty.
Throughout these operations over Germany Frank's Lancaster evaded search lights, collisions with other Lancaster's, unexploded bombs, night fighters, flack, cork screw dives, gale winds and adverse weather conditions. He often referred to the crew's survival during these raids as down to the 'skill of their pilot'.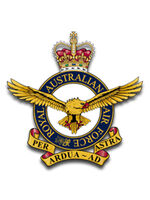 Next posting was to 150 Squadron R.A.F [a new 4-engine bomber squadron] where Frank completed his tour of thirty Ops. At this stage Frank's Wireless/Air Gunner duties would have finished however he volunteered for five more Ops. which turned into six. During his posting with the 150 Squadron operations consisted of bombing raids over the main cities of Germany: Duren, Bochum, Frankfurt, Dortmund, and Nuremberg. [And others]
Frank recalled later that he suffered from nightmares. "Nuremberg is only one of the raids that gave me nightmares. Not because of what happened but what could have happened. I thought the bomb aimer was never going to drop his bombs and we'd be blown out of the sky at any moment. "
After his tour of 36 Operations Frank became an instructor at Lichfield Operational Training Unit and then an instructor at Enstone.
Frank sailed home on the ship Stratheden after celebrating VE [Victory in Europe] Day and VJ [Victory over Japan] Day in England.
Frank was discharged from the RAAF on the 28th November 1945 with the rank of Flying Officer.
Frank returned to Ballarat, his hometown, where he took up a job as pay officer at the Ballarat Hospital. From the hospital he went to the Ballarat orphanage as an accountant, and from the Ballarat Orphanage to the Queen Elizabeth Geriatric Centre as accountant and finance officer. Frank was there for 33-years. He was made a Life Governor of the Ballarat Orphanage, a Life Governor of the Queen Elizabeth Geriatric Centre, and a life member of the Bomber Command Association in England. He also won the Les Blackburn Award for services to sport.
Information used and direct quotes were taken from Frank Petch's interview with Australians at War film archive.
OBITUARY
PETCH. - Francis Noel Miller (Frank) Flying Officer 419537 Late R.A.A.F 24.12.1921 - 19.2.2009
Adored husband of Mollie. Much loved son of Neil and Leila (both dec.). Loved brother of June and Geoffrey (both dec.). A full and varied life.
PETER TOBIN FUNERALS BALLARAT
Published in Herald Sun on Feb. 21, 2009.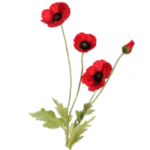 Sources: Australians at War Film Archive- Francis PETCH (Date of interview 07 July 2004)