Sergeant Robert Gordon Tyler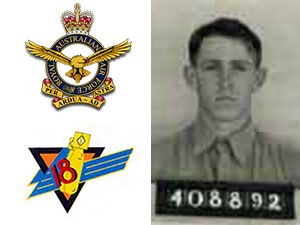 Robert Gordon Tyler was born in Ballarat on the 11 September 1921 to parents James Gordon and Helen Ramsay Tyler. The family lived at Buninyong near Ballarat where Robert attended Buninyong State School and later Ballarat College. After leaving school Robert's occupation was a 'Clerk' at Eyres Brothers Ballarat.
Robert Gordon Tyler enlisted in the RAAF on the 20 January 1941 [ service number 408892]. He completed his initial training at No. 4 ITS at Victor Harbour South Australia. From here he was posted to No. 1 Wireless Air Gunners School Ballarat on the 24 of July 1941 to train as a Wireless Operator/Air Gunner, Course 16. Twenty eight of the seventy-nine trainees of Course 16 were killed. Robert completed the gunnery part of his training at 2 BAGS [Bombing Air Gunners School] Port Pirie South Australia on the 7 April 1942. He was posted to 100 Squadron and then No. 18 Squadron in May 1942. 18 Squadron was an RAAF Netherlands East Indies Squadron.
The Australian War Memorial Collection: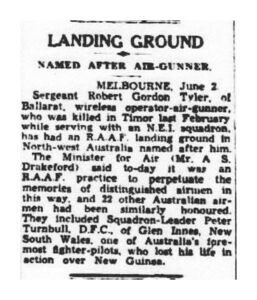 No. 18 (NEI) Squadron
Dutch airmen who escaped to Australia after the Japanese invasion of the Netherlands East Indies (NEI) were brought together to form Dutch squadrons under RAAF command. First among these special squadrons was 18 (NEI) Squadron, formed at Canberra on 4 April 1942. Although nominally made up of Dutch nationals, the RAAF supplied many co-pilots, air gunners, bombardiers, photographers, and ground staff. The US provided supplies and equipment. Engagement with enemy forces came early for 18 Squadron when, on 5 June 1942, unit B-25s sunk a 300-ton Japanese submarine off Sydney. This success resulted in the supply of 18 B-25s between August and September. In December the unit moved to MacDonald airstrip in the Northern Territory and began transforming the undeveloped site into a workable airbase. From January the squadron commenced offensive operation missions over East Timor and the Tanimbar and Kai Islands.
On 18 February 1943, six Mitchell aircraft were tasked to attack Dili, Timor. The Mitchells were intercepted by five Zeke fighters and a running battle resulted in Mitchell Bomber NS-144 of No. 18 Squadron NEI being shot down by Japanese fighters. The aircraft made an emergency landing at sea south of Dili, Timor.
The crew members of N5-144 were: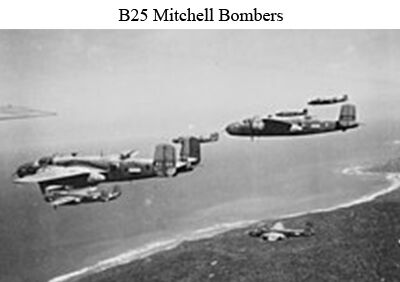 Vandrig C M Fisscher (NEIAF) (Second Pilot) Slightly Wounded
Second Lieutenant B J Grummels (NEIAF) (Pilot) Killed
Flight Sergeant Ronald Stuart Horridge (404990) (Wireless Air Gunner) Seriously Wounded, Discharged from the RAAF: 23 January 1946
Sergeant Robert Gordon Tyler (408892) (Wireless Air Gunner) Killed 1 WAGS Course 16.
Corporal van der Weert (93888) (Wireless Operator) Seriously Wounded
It was assumed that Sergeant Tyler had been killed in the running battle.
At 0100 hours on 19 February 1943, the three surviving crew members were picked up by an Australian destroyer and taken to Darwin.
It was reported that while the survivors were in their lifeboat the co-pilot was attacked by a shark and a large sea bird had to be beaten back.
Details of the incident were obtained from the book "Up in Darwin with the Dutch" by Gordon Wallace.
Sergeant Robert Gordon Tyler has no known grave. He was 21 years old.
Remembered: Panel 10, Northern Territory Memorial, Adelaide River NT
Remembered: Panel 101, Commemorative Area, Australian War Memorial, Canberra ACT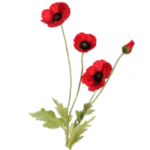 Sources: