Sergeant Robert William Westcott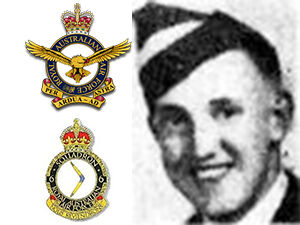 Robert William Westcott was born in Ballarat on the 3 November 1915 to parents Clarence William Valentine and Pearl May Westcott, of Doveton Street, Ballarat. Robert attended MacArthur State School and Ballarat High School. Prior to enlistment Robert's occupation was a Clerk for the South British Insurance Company, Dana Street Ballarat.
Robert William Westcott enlisted in the RAAF on the 28 February 1941 in Melbourne [service no. 401557].
He completed his RAAF initial training at No. 1 ITS at Somers Victoria and then began training as a Wireless/Air Gunner at No. 1 Wireless Air Gunner School Ballarat, Course 12. Thirty-five of the one hundred trainees from Course 12 were killed. Robert was then posted to No. 2 Bombing Air Gunner School [BAGS] at Port Pirie, South Australia.
After graduating Robert was posted to No. 6 Squadron RAAF on the 13 of December 1941 and then No.13 Squadron on the 16 January 1942, the day before his aircraft accident.
From Wikipedia, the free encyclopedia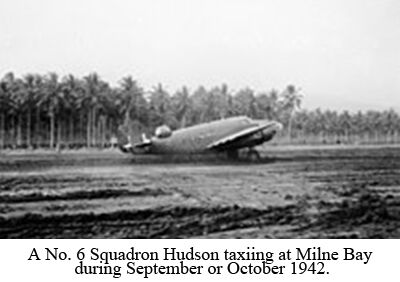 The squadron was disbanded in 1919 but re-formed at the start of 1939. It subsequently saw combat as a light bomber and maritime patrol squadron during World War II, and took part in the New Guinea Campaign and New Britain Campaign before being disbanded after the war.
No. 6 Squadron escorted convoys off the Australian east coast and undertook training exercises with the Australian Army and RAN.
The squadron's Ansons were replaced by twelve Mark I Lockheed Hudson light bombers during April and May 1940. These aircraft were much more capable than the Ansons, having a longer range, higher speed and greater bomb load. No. 6 Squadron continued to be based at Richmond, though detachments moved to other airstrips along the east coast when the squadron escorted troop convoys.
In August 1940 the squadron conducted long-range patrols searching for German raiders which were present in the Tasman Sea, but without success.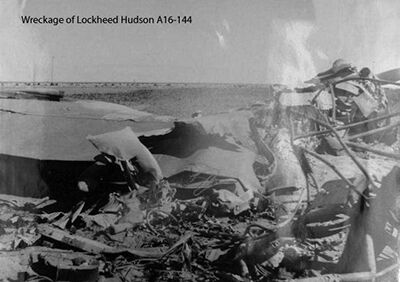 On the 17 January 1942 Lockheed Hudson A16-144 from No. 6 Squadron crashed on take-off at Ceduna South Australia while on delivery to No. 14 Squadron at RAAF Station Pearce WA.
Those killed on A16-144 were:
Flight Lieutenant David Burton Bradley (223) (Pilot)
Sergeant Ronald Dow (406714) (Second Pilot)
Squadron Leader Gordon Stanley Laming (84) (Pilot, Supernumerary)
Corporal William Clyde Lindsay (23720) (Wireless Telegraph Operator, Supernumerary)
Flight Sergeant Frederick Archibald Walker (407383) (Wireless Air Gunner) 1 WAGS Course 6.
Sergeant Robert William Westcott (401557) (Wireless Air Gunner) 1 WAGS Course 12.
Sergeant Robert William Westcott is buried at the Ballarat General [Old] Cemetery.
He was 26 years old.

He is Remembered: Panel 99, Commemorative Area, Australian War Memorial, Canberra ACT
Sources: