Squadron Leader Merrick Sadlier Holgate DFC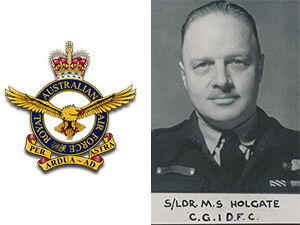 Merrick Sadlier Holgate was born in Ballarat on the 12 July 1911 to parents Stephen John and Florence Mary Holgate of Service Street Ballarat. He was brother to Alison Margaret Holgate. Merrick was educated at Ballarat Grammar and was one of the first Airforce trainees at Ballarat.
He obtained a Diploma of Commerce at the University of Melbourne. Prior to enlistment Merrick Holgate's occupation was listed as 'Clerk' and 'Investment Broker.' Merrick enlisted in the RAAF on the 27 May 1940 and was posted to No. 1 Wireless Air Gunners School Ballarat on the day of enlistment. Here he joined Course 2 and 3 training as a Wireless Operator. After graduation Merrick proceeded to No. 1 Bombing Air Gunners School [BAGS] Evans Head NSW for gunnery training. He topped the combined Ballarat and Evans Head schools and gained his commission.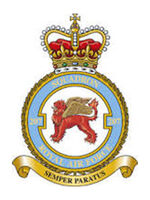 Merrick Holgate embarked from Australia on the 13 June 1941 for the U.K. via Canada for Conversion Training. Once in the UK Merrick joined Bomber Command and was posted to RAF No. 207 Squadron crewing in Lancaster aircraft. He flew 32 bombing operations over Europe including Iceland and remarkably survived.
Merrick Holgate showed outstanding bravery in a number of operations and on the 13 July 1943 was awarded the Distinguished Flying Cross.
"Flying Officer Holgate has successfully completed a large number of operational sorties and throughout his operational career, he has shown the utmost keenness and enthusiasm in his work. On one occasion Flying Officer Holgate took over duties from the ill Navigator as well as performing his own and, by his assistance, enabled his captain to fly the aircraft safely back to base. His readiness to serve in any capacity as a member of aircrew combined with his technical ability has made this officer a valuable member of his squadron."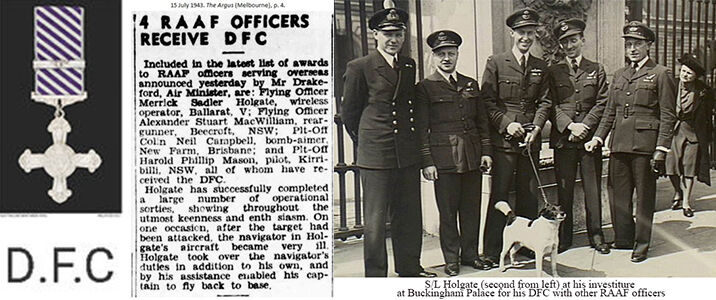 Flight Lieutenant Holgate became Chief Ground Instructor for 1161 Conversion Unit Winthorpe Nottinghamshire UK from May 1943 until October 1944.
An operational conversion unit (OCU) is a unit within an air force whose role is to support preparation for the operational missions of a specific aircraft type by providing trained personnel. Operational conversion units teach pilots how to fly an aircraft and which tactics best exploit the performance of their aircraft and its weapons. The Royal Air Force and Royal Australian Air Force, among others, practise this method of training. From Wikipedia, the free encyclopedia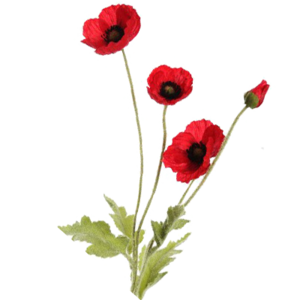 By July 1944 Merrick was promoted to Squadron Leader.
He returned to Australia on the 15 January 1945 after four years of service in the UK.
Squadron Leader Holgate was discharged from the RAAF on the 8 May 1945.
Merrick died on 25 April 1976 in Ballarat. He was sixty-four years old.
Sources: Clare Spring - Wikitree