Flight Lieutenant Peter Charles Tustin Armytage OAM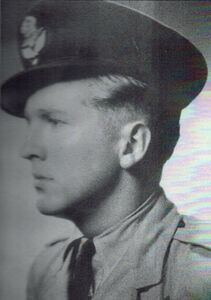 Peter Armytage was born on the 18 February 1923 in South Yarra Melbourne to parents Charles Morrell Armytage and Pamela Tustin. Peter was one of four children- the others being Sheila, Diana and Savile.
Charles Armytage attended Geelong Grammar and in 1914 joined the Australian Light Horse Regiment and went to the war at Gallipoli. Peter Armytage followed in his father's footsteps attending Geelong Grammar for nine years as a boarder.
After turning eighteen Peter enlisted in the RAAF on the 30 January 1942. Service number 410431.
He had his initial training at Somers, Victoria and trained as a Wireless operator at No. 2 WAGS Parkes NSW. He was then sent to Port Pirie, South Australia to complete the Gunnery course.
Peter was Commissioned as an Officer in the RAAF in 1942 at the age of nineteen.
Peter Armytage embarked for America on the troop ship the USS West Point. After a few weeks at Camp Myles Standish at Taunton, Massachusetts Peter sailed to the United Kingdom.

After completing Conversion Courses and Operational Training Peter became part of Bomber Command crewing in Lancaster Bombers.
Eventually Peter and his crew became part of the 625 Squadron stationed at Grimsby with Peter being the Wireless Operator. Operations consisted of bombing raids over Germany in particular Munich and every second raid Berlin.
That fateful night – 24 March 1944
Lancaster ME684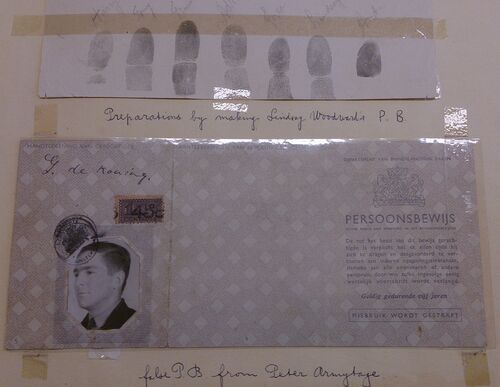 The night of the 24 March was the last of the 'Thousand Bomber Raids' on Germany. Eighty-four bombers were shot down that night which ended these raids.
It was also the night Peter Armytage and his crew were shot down and the night of 'The Great Escape' from the German Prisoner of War Camp Stalag Luft 111 as depicted in the famous 1963 film 'The Great Escape'.
With their Lancaster on fire Peter and his crew were ordered to bail out. Peter landed near a farm- house fifteen miles from the Dutch border in Germany. Believing he was to be handed over to the Germans Peter ran eighteen miles and swam a freezing river to reach the Dutch border. Here he hid in a haystack before being assisted by a Dutch boy.
Peter then became part of the Dutch underground who organised a fake passport and other papers. He was given civilian clothes and a bicycle. His passport stated that he was a deaf and dumb electrician.
Peter was moved between families with the intention to escape over the Pyrenees mountains to Madrid, Spain.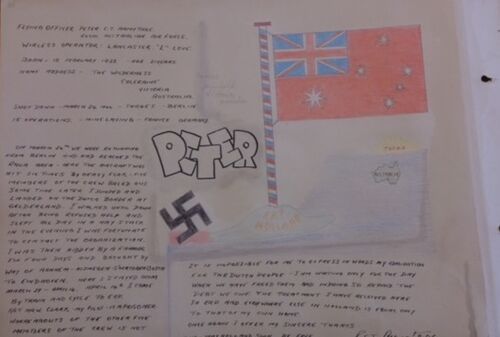 He was to write about the kindness and generosity of these Dutch families who took enormous risks in hiding Allied airmen.
After hiding with a family in a city called Eindhoven Peter was moved to a little village called Erp in Holland. Here he stayed with the Mayor called Harry Otten.
During the war he hid 56 airmen in total often in buildings with false walls. Every escapee who stayed with the Mayor was asked to do a page in a big book.
It provided a distraction and filled in time. Peter did a page on Australia!
Eventually Peter was moved by train to the Belgium/Dutch border and then by bicycle to Antwerp.
It was here that Peter was betrayed to the Gestapo. He spent two months in the Antwerp jail being interrogated on a regular basis.
The Gestapo confiscated his watch and gold locket which also served as his RAAF identification. His precious locket was worn by his father in Gallipoli during WW1 and had a photo of his sweetheart Diana.
The German Commander told Peter he would get them back and to his surprise he did.
Peter was to say, "The Germans are an honest race!".

Stalag Luft 111
Peter along with ten others was transported to Stalag Luft 111 by cattle truck on a goods train. They arrived after the 'great escape' where one hundred and ten men escaped through a tunnel.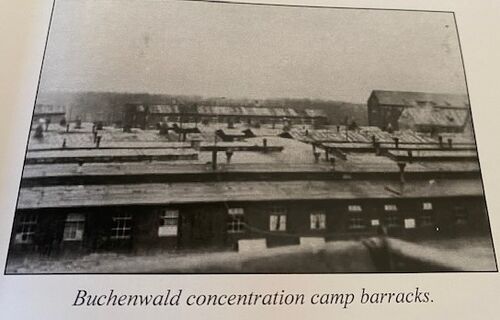 The Germans captured and shot fifty-five of the escapees five of whom were Australians. Peter spent nearly twelve months at Stalag Luft 111 where he met up with men he had known back in Australia – Joe Koch from Casterton, Rupert Steele, Bob Andre and his future wife's brother Terry Officer.
Peter was to write "We were treated better in this camp because we came under the Geneva Convention. We received a portion of, if not all the Red Cross parcels that came for us."
The POW's used to bribe the guards with Chesterfield cigarettes in exchange for four or five eggs. "Each twelve-man hut would get a loaf of bread every two days. This bread tasted like it was made from sawdust."
With the Russians advancing the Germans marched the POWs from Stalag Luft 111 eighty miles over four days through thick snow to avoid falling into Russian hands.
"We were worth something for whichever side held us so 1,200 Allied Airforce Officers represented considerable bargaining power."
Peter and the other POWs were marched to Buchenwald, forty or fifty miles west of Berlin. It was obvious to Peter that Buchenwald was a concentration camp where Russians and Jews were being murdered in gas chambers. The Russians eventually liberated the camp. Peter and a few others escaped from the Russians and made their way to the Elbe River where they crossed a bridge to the American side.
Peter was transported to England where his family were finally informed that he was alive after believing he was missing presumed killed. All seven of Peter's crew from the Lancaster survived with two escaping to Switzerland and the others captured as POW's. Peter and his crew became members of 'The Caterpillar Club", those airmen who survived using a parachute.
Peter was repatriated back to Australia with the War in Europe and the Pacific declared over. He was discharged from the RAAF on the 13 November 1945.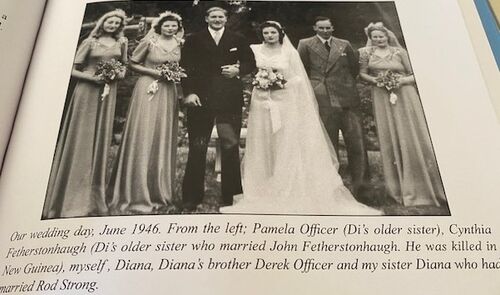 Peter and Diana married in June 1946. Again, following in his father's footsteps, Peter began farming and in 1948 obtained land at Mt Sturgeon, Dunkeld, from his great aunts as a reward for going to war. Here he ran a Merino flock and Hertford cattle. He named this property 'Caviar'.
Peter's family owned properties at Afton Downs in Queensland as well as Fulham, north of Balmoral and Mt Sturgeon at Dunkeld Western Victoria. Peter went on to manage Afton Downs flying himself to Queensland on a regular basis. Peter's father Charles owned and managed The 'Wilderness' property at Coleraine breeding sheep. Peter and Diana settled into married life and went on to have four children- Anita, Charles[Chas], Tim and Simon.
Diana's brother Terry Officer RAAF spent four years as a POW at the hands of the Germans part of this time with Peter. After surviving the war, sadly, Terry was killed in a car accident a week before Peter and Diana's wedding.
For The Love Of Horses
Peter's family were renown horse racing identities particularly in country Victoria.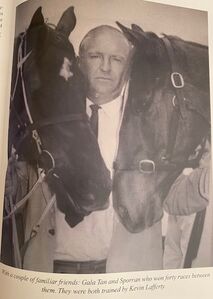 Peter served as chairman of the South Western District Racing Association and President of the Hamilton Racing Club before joining the VRC committee in 1978. He became chairman in 1986 until 1991.
Peter led reforms to the racing industry including the privatisation of the TAB.
Other initiatives were the creation of the Melbourne Spring Racing Carnival committee, the formation of radio station 3UZ and the commissioning of the statue of Phar Lap at Flemington.
In 1990 Peter Armytage was awarded the Medal of the Order of Australia in recognition of his service to horse racing and as an owner. One of his notable horses was the steeplechaser Kriegie, which he co-owned with fellow POWs Sir Rupert Steele and Bob Andre. The horse's name was an abbreviation of the German word meaning prisoner of war.
In 1987 Peter and Diana went to Holland and met up with the members of the underground who had helped him during the war. He visited the house where he was hidden and was astonished to find the ladder leading to his hideout and photos.
He met the Mayor of Erp Harry Otten and Joop Spithoven who took Peter on the train to the Belgium border. He also visited the site where his bomber crashed and a museum displaying wreckage from the plane.
Peter Armytage died at Penshurst Hospital in the Western District on the 8 June 2010 at the age of 87.
His wife Diana died in 2007.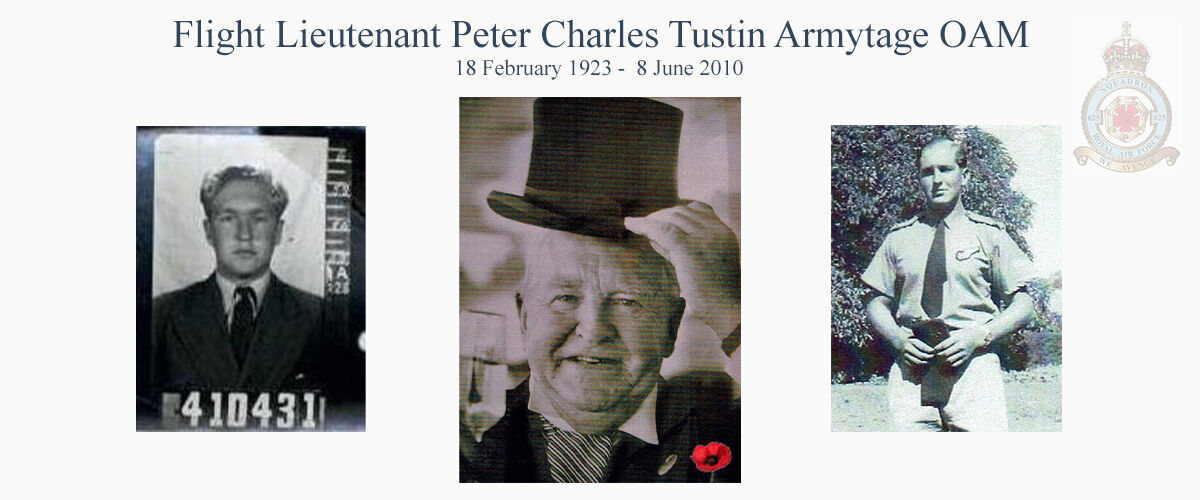 Acknowledgements:
We would like to thank Peter Armytage's sons Simon and Chas for generously allowing us to write their fathers remarkable story. Also our appreciation for access to photos, books and documents which make up this Feature Story.
Flight Lieutenant Peter Armytage will be the focus for the March 2023 Airforce Association Ballarat Branch Social Luncheon meeting. A highlight will be an audio interview with Peter conducted by Steve Martin on the 11 November 2005, Remembrance Day. This interview delves into Peter's war and POW experience.
LINKS:
Aircrew Remembered