Flying Officer Denis Vaughan KELLY
[LEGION De 'HONNEUR]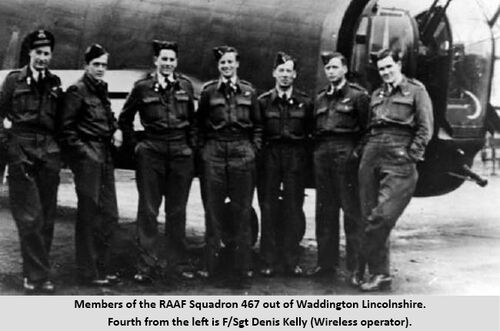 Denis Kelly, nicknamed Ned, was born on the 10 August 1923 in Clifton Hill Victoria, Australia.
He enlisted in the RAAF on the 19 June 1942 in Melbourne Victoria.. He was married with an infant son. Denis wanted to be a fighter pilot but was deemed unsuitable due to a 'lack of depth perception' discovered at Initial Training School in Victor Harbour, South Australia. Denis was posted to No. 1 Wireless Air Gunners School Ballarat Victoria [WAGS] to train as a Wireless/ Air Gunner. He completed Course 30 at Ballarat and his Gunnery training at No.3 Bombing Air Gunners School [BAGS] Sale Victoria..
Denis sailed to the UK via America. He was posted to Llandwrog in north-west Wales for further training. He crewed up at RAF Lichfield with an Australian pilot named Tom Davis. Denis joined the 467 Squadron at Waddington and began flying operations in late April 1944. Denis was convinced that with each trip his supply of luck was steadily being used up. "Every op you completed brought you one closer to the one that would get you."
On the 18th July 1944 the crew flying in a Lancaster aircraft attacked Revigny, in France. On turning for home, the aircraft was hit by an upward firing 'Schrage Musik' cannon. The Lancaster caught on fire. Denis Kelly bailed out but sustained injuries on landing to his legs and spine.
Two other crew members survived. The pilot and the re-gunner were killed. Denis couldn't walk and convinced the other two crew members to go on without him. They left – and Denis began a courageous attempt to crawl his way across France. For the next two days, Denis dragged himself laboriously along on his elbows, moving about "50 yards every three hours." At one point he slithered into a canal and swam, until he came to a bridge that had German guards on it. In the water he beat a cautious retreat. Getting out of the canal was difficult without the use of his legs, but after several attempts he managed and continued on his slow, determined but excruciating way. He came to a road, started crawling across it – and mercifully passed out. Denis was found by a Frenchman who took him to a lock-keepers house.
Denis stayed here for several weeks while his immediate injuries healed and while he figured out how to walk again. At one point he was taken to see two other members of his crew, in another safe house nearby. This happened to be on Denis' 21st birthday. Unbelievably, when Denis informed one of the Frenchmen of that fact, he produced a bottle of Moet champagne, and all present enjoyed a glass.
A rescue operation to pick up Denis by a British aeroplane was betrayed to the Germans. Denis found himself alone in occupied France.
For the next little while (he isn't certain how long), Denis wandered between farmhouses scrounging for food. It was at one of these places that he met an American airman, a Thunderbolt pilot who he knew only as 'Tex' who had been shot down some nine months previously. They decided to join forces. For a while all was ok but scrounging sufficient food for two was even harder than it had been when they were on their own. As they got hungrier, they started to take more risks, and one day it all came unstuck. Denis and Tex were discovered by German soldiers in a café and arrested. Because they were in civilian clothes they were deemed to be spies and were to be taken to Berlin for interrogation. At the train station Tex overpowered the guards and the men escaped.
Despite their shared perils, however, Denis and Tex went their separate ways shortly afterwards. And here's where Denis' story gets truly bizarre. He was just outside a forest one day, foraging for food, when he heard some tanks approaching. So, he high-tailed it into the forest and up a tree – then watched in horror as the tanks, which were German, stopped and proceeded to set up their own camp directly underneath his tree.
They stayed there for four days. For all of that time, Denis remained in the tree, having used a piece of his parachute which he had been carrying to tie himself to the branch so he could sleep. He sucked the dew off the leaves to survive. The tanks eventually packed up camp and left – and not once had anyone looked up.
After watching a lone Shorts Stirling bomber drop something big by parachute Denis made his way to investigate. He had blundered into a small platoon of SAS commandos, operating from a well-hidden base behind enemy lines. Sometime afterwards the commandos handed Denis back to the Resistance who placed him in yet another safe house – where he found Tex and several of his own crew waiting. Knowing that the fighting front was getting closer, the French were collecting their fugitive airmen in one place to wait for liberation. Denis and the others were picked-up by General Patton's unit and once they had convinced the Americans that they were Allied airmen who had been in hiding, the Yanks invited them into their tanks, and Denis had the surreal experience of standing in the gun turret, being handed bottles of wine from the grateful inhabitants of several villages as they were liberated.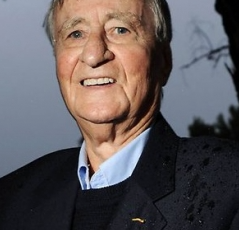 Denis was sent back to Paris and eventually flown back to England in early September 1944.
He had been on the run behind enemy lines for nearly three months. He eventually returned to Australia and his family.
Denis and his son visited the Bomber Command Memorial in London in 2014 and made their way to France.
They visited the lock keeper's house where Denis had been hidden.
They attended receptions in town halls with ceremonies and local dignitaries.
They even found a woman who, as a young girl, had been present at the impromptu party when Denis celebrated his 21st birthday behind enemy lines.
But most important of all, they visited two lone war graves in two separate churchyards: those of rear gunner Sgt Col Allen and pilot P/O Tom Davis, the two members of Denis' crew who did not survive the crash.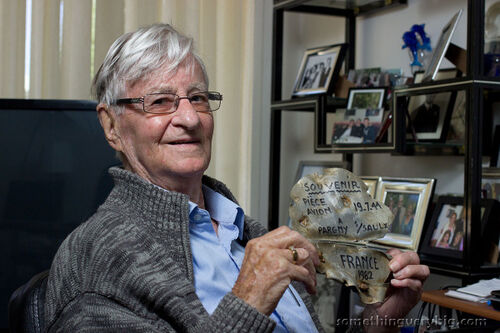 Standing next to the grave of his brave pilot, Denis broke down in tears. "I bless all of you for coming here today in memory of my comrade," he told the gathering of local townsfolk. "But also, a very important agenda on my plate today is to say thank you, thank you, thank you."
F/Off Denis Vaughan KELLY accepted the Legion de'Honneur at the French Embassy Melbourne, Victoria Australia in 2015 on behalf of his crew.
Denis died in September 2019.
Many thanks to Adam Purcell for his generosity in allowing us to use his interview with Denis Kelly for our FEATURE Story.
© 2016 Adam Purcell
PHOTO ACKNOWLEDGEMENTS
PHOTO – Crew… Ipswich First newspaper article 'Command with most casualties remembered Fighters, Flak and Fully Loaded: May 29th, 2018
PHOTO – AFL Umpires Association Article…Denis Kelly- still flying high
PHOTO – Denis Kelly in old age…Adam Purcell
Links
Click for Ibcc Interview #9: Denis Kelly – 467 Squadron Wireless Operator And Evader
Click for Bomber Command Commemorative Association Victoria (Inc)
Click for D-Day veteran returns to thank French villagers who saved his life
Click for AFL Umpires Association Denis Kelly – still flying high
Click for Fighters, Flak and Fully Loaded: Command with most casualties remembered