Lancaster ME663 RAAF 460 Squadron
THE 'BOMBER BOYS'
of LANCASTER ME663 460 SQUADRON RAAF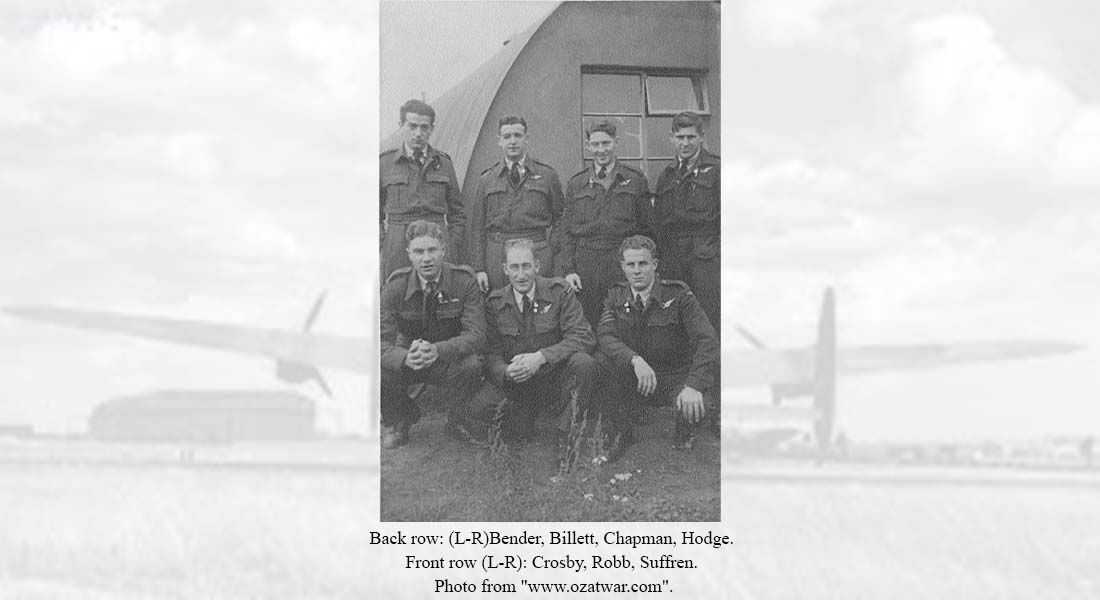 The following account of the fate of the crew of Lancaster ME663 is of vital significance to 1 WAGS.
The air gunner, Flying Officer Laurence William ROBB born at Alexandra, Victoria trained at 1 WAGS Ballarat in Course 29.
Flying Officer Charles Edward SUFFREN DFC, Navigator, was born in Ballarat and trained at Air Observers School Nhill, Victoria.
Flight Sergeant Leslie Harold CHAPMAN Wireless Operator/ Air Gunner was born in Stawell Victoria and has a family connection to the 1 WAGS website coordinator. Leslie trained at No. 2 WAGS Parkes NSW.
Of the seven crew, six served with the RAAF and one with the RAF. Three airmen were awarded the Distinguished Flying Cross and one the Distinguished Flying Medal.
Two crewmen became PoW's with Flight Sergeant Frederick Stanley HODGE born Melbourne, Victoria, surviving the war and repatriated back to Australia.
Flying Officer SUFFREN was also a POW but died of his injuries ten months after the crash.
The pilot Flight Lieutenant Peter Alan CROSBY DFC born Brighton South Australia was an active member of the Seacliff Lifesaving Club. Following his training as a pilot Peter joined No. 460 Squadron Royal Australian Airforce.


Based in England the squadron was part of the Royal Air Force Bomber Command.
Peter was a gifted pilot and a man of courage and daring. The citation for his Distinguished Flying Cross he earned during service, noted him as being of "exceptional coolness and fearlessness and an inspiration to his crew on all occasions".
Flight Sergeant Clive BILLETT, Bomb/Aimer was born in Darwin, Northern Territory. His parents resided at Brisbane Queensland. He enlisted in the RAAF in Brisbane Queensland on the 17th August 1941.
Pilot Officer Milton Harold BENDER DFC Flight Engineer served with the RAF. Born Golders Green, Middlesex England.
Milton Bender received a commission on 23rd February 1944. Both he and Peter Crosby were awarded a posthumous DFC which were back dated to 8th April 1944. Milton was killed on his 20th operation.
Milton's uncle Joseph Bender also served in the RAF and was killed two months after Milton serving in 102 (Ceylon) Squadron as a Flight Engineer.
OPERATION
MINE- LAYING BALTIC SEA
Lancaster ME663 of 460 Squadron RAAF based at Binbrook UK was shot down on the 10th April 1944 by a German night-fighter and anti-aircraft fire and crashed near the town of Aale in Denmark. The aircraft was homeward bound after an operation to lay mines in the Baltic.
This event is described in Peter Firkin's 'Strike and Return."

"Another heavy loss during this period was sustained on the mine-laying trip to Danzig Bay on 9th April when of 12 aircraft dispatched, three very experienced crews were missing, and two others - those of Pilot Officer R.N. Wade and Flight Lieutenant A.V. Willis, D.F.C. - came back severely damaged from flak. Flight Sergeant W.D. McKenzie's crew, doing their first op., crashed on take-off and all were killed."
"Not only did the crews have to contend with tremendous heavy flak over the "Gardening " area, but they also had to withstand numerous night-fighter attacks whilst flying over Denmark."
"The minelaying operations were all part of the plan to bottle up the Baltic Sea and stop seaborne supplies from reaching the Russian Front."
THE CREW of LANCASTER ME663
Five of the seven crewmen were killed in the crash and are buried in Esbjerg [Fourfelt] Cemetery in Denmark. Two became PoW with one dying of his injuries during captivity.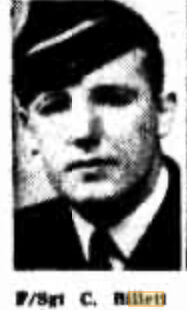 CHAPMAN, Leslie Harold [Flight Sergeant] 410641 RAAF Wireless Operator/Air Gunner. Born Stawell, Victoria. KILLED Age 20
CROSBY, Peter Alan [Flight Lieutenant] DFC 416656 RAAF Pilot. Born Brighton South Australia. KILLED Age 20
BILLETT, Clive [Flight Sergeant] 414191 RAAF Bomb /Aimer. Born Darwin, Northern Territory. KILLED Age 25
ROBB, Laurence William [Flying Officer] 418879 RAAF Air Gunner. Born Alexandra, Victoria. Trained at 1 WAGS Ballarat Course 29. KILLED Age 33
BENDER, Milton Harold [Pilot Officer] DFC 173405 RAF Engineer Born Middlesex England. KILLED Age 20
HODGE, Frederick Stanley [Flight Sergeant] DFM 426100 RAAF Rear Gunner. Born Melbourne, Victoria. Taken prisoner by German captors and survived the war. PoW Discharged 28th November 1945
SUFFREN, Charles Edward [Flying Officer] DFC 409280 RAAF Navigator. Born Ballarat, Victoria. Survived but with severe injuries. He passed away in a LUFTWAFFE Military hospital in Germany 10 months after the crash and is buried in Durnbach Cemetery in Germany. PoW
Flying Officer Laurence William ROBB RAAF
Air Gunner
F/O Laurence William Robb trained at No. 1 Wireless Air Gunners School Ballarat Course 29.
Alexandra & Yea Standard 5th May 1944
AIRMAN MISSING
Flying Officer Laurence Robb second son of Mr & Mrs W.G. Robb, 1 Schildt St; Yarraville ( and formerly of Thornton) is reported missing on bombing operations over Danzig Bay on Easter Sunday. The day after receiving this report Mr & Mrs Robb had an airgraph from their son saying that he would soon complete his operational duties and be grounded for 6 months. F/O Robb who was an air gunner in a RAAF Lancaster squadron left Australia early last year and prior to enlisting played with Lennox St Methodist CC and was a member of the Orpheans Orchestra.
---
Flying Officer Charles Edward SUFFREN DFC 409280 RAAF
Navigator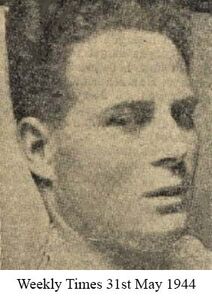 F/O Suffren was found in a plantation nearby, unconscious. On his water bag he had written "03:40 hours attacked by nightfighter, thrown out of aircraft. Back broken. Greet my family, Ted - 05:10 hours, pain unbearable".
Weekly Times 31st May 1944
BALLARAT OARSMAN IN AIR DRAMA OVER DENMARK
After one of the most remarkable experience that could befall any man, 22yr old, former Ballarat oarsman, P/O Charles Edward Suffren seems to be alive and well, according to the cable which came about by a roundabout way from Denmark last week. Ted Suffren, most promising of Ballarat's younger generation of oarsmen and member of Ballarat Grammar School's winning Head of the Lake Crew, is the only son of the late Charlie Suffren, Victorian interstate oarsman and one of the finest cross-country runners, Victoria has ever known. Ted was navigator of a Lancaster bomber which crashed in Denmark after attacking a target at Danzig Bay on April 9 and his three younger sisters were notified officially that he was missing.
In the mean- time there trickled out from the underground in Denmark, a remarkable story about a dying Australian airman, whose craft had crashed, being operated on by 2 Danish doctors at a Danish town nearby when in came an arresting party of Hun officers who seized the unconscious man off the operating table and took him away to a German military hospital. A report that the airman had died was subsequently denied and it was revealed that he was an Australian, now alive, and of the name Suffren. Ted Suffren's sisters are now convinced that this unknown Australian victim of the bomber crash is their brother.
The Argus 21st August 1944
AWARD OF DFC TO WAR PRISONER
The DFC has been awarded to P/O Charles Edward Suffren 23, of Ballarat, now a prisoner in a German military hospital at Aarhuus. The citation details of which have been communicated to his sisters, Misses R and J Suffren, Frank St, Ballarat says that he had completed many operational sorties during which he displayed, courage, fortitude and devotion to duty. Educated at Ballarat Grammar School, he was a member of the Head of The Lake Crew in 1937, and later rowed with Ballarat Rowing Club. His father, the late Mr C M Suffren was a former interstate oarsman and Australian champion cross country runner.
---
Flight Sergeant Stanley Frederick 'Stan' HODGE DFM 26100 RAAF
Rear Gunner, sole survivor and PoW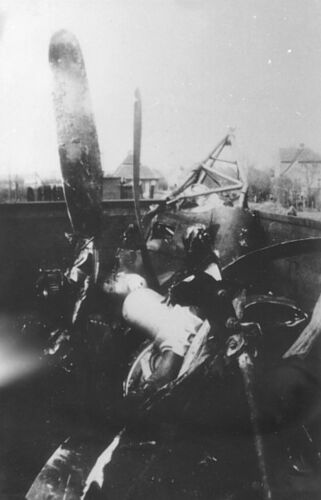 Citation DFM: -
This airman has taken part in sorties against some of the most heavily defended targets in Germany, including Berlin, Essen, Cologne and Leipzig. Throughout his tour he has exhibited a fine fighting spirit which combined with his devotion to duty and vigilance have inspired the members of his crew with confidence. On one occasion when detailed for an attack on Brunswick, his aircraft was attacked by a Messerschmitt 210. Flight Sgt Hodge returned the fire, at the same time giving his captain prompt and clear evasive directions. After the first burst the guns jammed and the crew undoubtedly owe their lives to this airman's vigilance and skills.
When captured Stan was held in Stalag Luft 3 (Great Escape Camp) Lager A and his POW No 3518. 21/5/1945. During his captivity Stan Hodge was moved from camp to camp with many weeks of forced marching during Germany's winter. Previously reported POW now repatriated and arrived in the UK. Stanley Hodge was interviewed once in Britain after being held as a prisoner of war. He described what happened to ME663: -
"The aircraft was badly shot about and set on fire by three enemy aircraft at 23,000ft. At about 18,000ft the Captain ordered abandon aircraft and all the crew acknowledged. The plane lurched and at 6000ft straightened out the Captain said "Hurry!' and "Abandon!" The aircraft started to dive again. I left by way of the rear turret. The aircraft was burning in both wings and the flames were coming back both sides. The starboard side was the worst. The aircraft was shot up in the vicinity of Arrhus and Horsens. I did not see the aircraft crash. I was met by Danes and taken for a meal. The Germans turned up. I have no information re: the other crew members. I did not see any 'chutes. I was released by British troops after I had left the marching column. I had done 22 air operations.
---
Flight Sergeant Leslie Harold CHAPMAN 410641 RAAF
Wireless Operator/ Air Gunner
Leslie Harold Chapman was born in Stawell on the 20th July 1923. After his education at State School 502 and Stawell high School he joined the State Savings Bank in Stawell. As a teenager he belonged to the scout movement and achieved the honour of King's scout, this being an indication of his splendid character. After enlistment in the RAAF Leslie commenced his Initial Training at Somers, Victoria then Wireless Training at No.2 W.A.G.S Parkes, NSW. He completed Gunnery training at No. 2 B.A.G.S at Port Pirie South Australia. He departed from Melbourne on the 6th January 1943.
He was stationed at several locations before being attached to the 460 Squadron, a Lancaster Bombing Squadron based at Binbrook Lincolnshire in September 1943.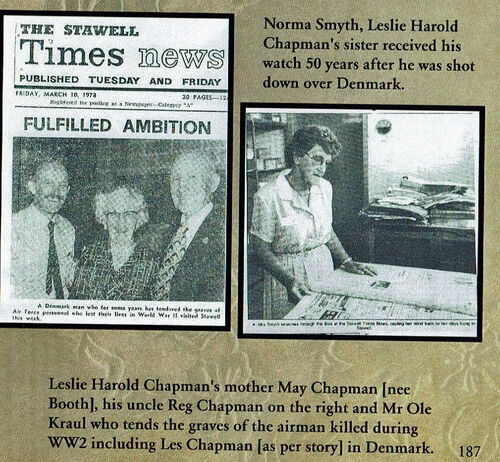 It was from this base that Leslie took part in 22 bombing operations over Germany as wireless operator on Lancaster Bombers. On more than one occasion his aircraft was hit by flak from ground fire or night fighter attack. After limping home from an operation over Hanover, the pilot was forced to crash land just as they reached the English coast. Leslie's sister Norma Smyth received Leslie's watch 50 years after he was shot down over Denmark. The graves of the airmen of Lancaster ME663 were tended by Mrs Emilie Hendrikson, a school teacher who assisted Stan Hodge after the crash. Mrs Hendrikson tended the graves and corresponded with the airmen's families for more than 25 years. Her untiring efforts did so much to help and comfort these families in far distant Australia. The work of Mrs Hendrikson was continued by Mr Ole Kraul of Horsens who has kept up the correspondence with family members and has met several who have visited Denmark. After a visit to Australia in 1978 Mr Kraul was made an honorary member of The Australian Airforce Association Victoria for the outstanding work he does on their behalf.
As a tribute to these brave men, each year on ANZAC DAY, and when it is possible for him to attend, the Australian Ambassador and other officials, along with Ole Kraul, hold a service at the Memorial Stone at Aale, the place where Lancaster ME663 on April 10th 1944.
As written by Jack and Norma Smyth [sister of Les]
Leslie Harold Chapman's father Harold Henry Chapman and his uncle Reginald Knox Napier Chapman both served in the Infantry during WW1 at various theatres including the Somme, France. They both survived the war and returned to their hometown of Stawell, Victoria.
---
Barrier Miner 15th August 1950
THEY HONOUR OUR DEAD IN DENMARK

On what would have been the 21st birthday of their eldest son, Flt/Lt Peter Crosby DFC - June 7th 1944 - Mr & Mrs Alan Crosby of Waratah St, Seacliffe were informed by the Air Board that he had died when his Lancaster was shot down by a nest of German fighters over Denmark. They never really knew what happened to their son until the coming of a letter 15 months later from a Danish woman who said:-
"Many airmen are buried in Denmark and you must tell again and again that every grave is taken care of - so much that I can't tell you." The Danish woman had "given a survivor of the Lancaster's crew a meal after the crash, learnt from him that he was an Australian and that his name was Stanley Hodge". She had written to Hodge in Bundaberg, Queensland as soon as the Air Ministry, through the BBC, had supplied his address.
Stan Hodge had then written to Mrs Crosby in S Australia about this letter from Mrs Emilie Henriksen, of Rask Molle, Denmark, who said " Every grave is taken care of - so much that I can't tell you" That tenuous thread has grown to a great bond between the Crosby's of Seacliffe, South Australia and the scene of the crash but the Germans had taken them to a new burial place at Esbjerg, 50 miles away, because they were jealous of the care bestowed on the graves by the Danes in the locality of the crash. But even so, the Henriksen's had travelled the 50 miles to Esbjerg and put fresh flowers on the graves there and were able to assure her the graves were being well cared for there too.
Since the war ended the Danes have erected a memorial - a huge rough-hewn stone 6ft high and 3 to 4 ft square at the base, at the site of the crash. An inscription on the stone reads: "Here fell on the 10th day of April 1944 six Allied airmen in the common fight for freedom and right" On the sides of the stone the names of the boys and the dates of their birthdays are inscribed and then: "With the going down of the sun, we will remember them" The names are Peter Alan Crosby DFC Seacliffe S.A., Laurence Robb, Yarraville Victoria, Edward Suffren DFC, Ballarat, Victoria, Milton Bender DFC Golders Green, England, Clive Billett, Brisbane, Queensland and Leslie Chapman, Stawell, Victoria. Since this monument was erected on May 4th, 1947, three flagpoles have been out up beside it.
On the birthdays of each of the boys the flags of Australia, Denmark and England fly there, side by side and fresh flowers are laid on the memorial. And on the anniversary of their death a service is held there. At the service there this year, Pastor Tage Hanson said "These 6 fought for us. They gave their lives. It means we are in debt to the young Australians and the Englishman - a debt we can never pay - but we can honour and bless their memory" Then three young girls in long white gowns unfurled the three flags to the strains of "God Save The King" and the Danish national anthem.
All those things were told the Crosby's by the Henriksen's in letters, newspaper cuttings and translations, and in photographs.
---
'LEST WE FORGET'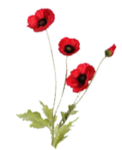 'OUR BRAVE BOYS WHO SERVED IN BOMBER COMMAND'
Links:
Researcher Dorothy Ramser, Bomber Command Losses
Trove - Flight Lieutenant Crosby
Virtual War Memorial Australia