The Crompton Brothers
Charles Frederic Crompton &
George William Sergio Crompton
RAAF brothers Charles Frederic Crompton 404138 and George William Sergio Crompton 404207 trained as
Wireless Operators/Air Gunners at No. 1 Wireless Air Gunners School in Ballarat, Victoria.
This training formed part of The Empire Air Training Scheme to supply England with aircrew
to support the RAF in their battle against Germany during WW2.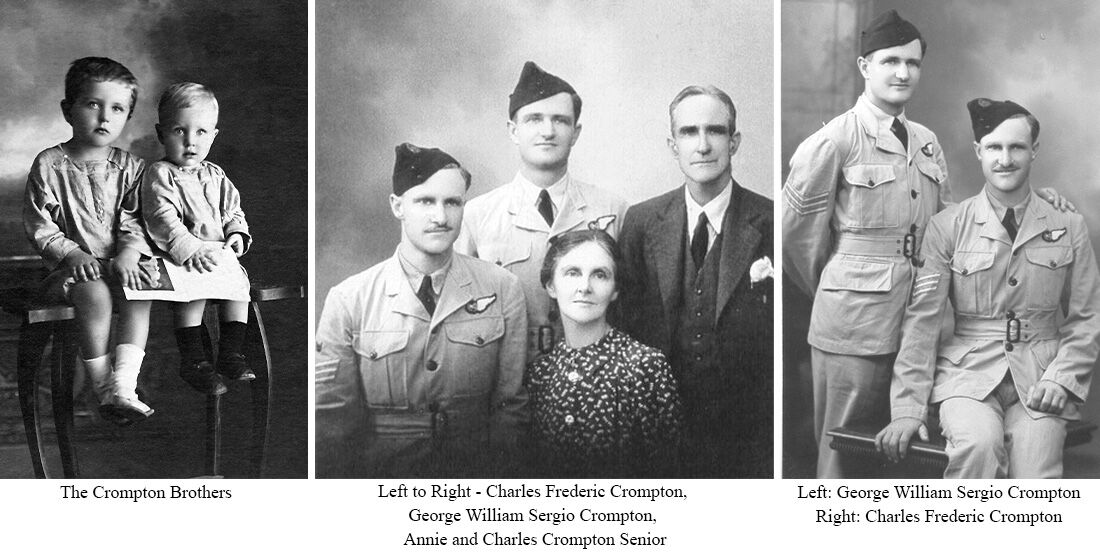 Charles completed Course 2 [intake 27 May 1940] and George Course 3 [intake 25 July 1940].
Both boys received their gunnery training at No. 1 Bombing Air Gunnery School Evans Head New South Wales.
Charles Frederic CROMPTON [1916-1992]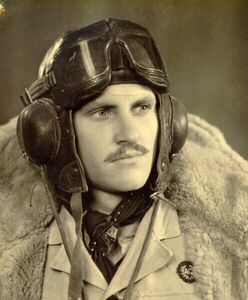 Charles, known as Fred, was born on the 5 October 1916 in Mackay Queensland to parents Charles Frederic Crompton
[a cane farmer] and Annie Crompton nee Allen. He was part of a large family of brothers and sisters.
Below are listed the Crompton siblings on a RSL Roll of Honour.
George William Sergio Crompton Wireless Operator / Air Gunner killed 30 July 1942 serving in the Middle East with the 458 Squadron.
Frank served in the RAAF ground crew in Papua New Guinea during WW2. John was another pilot in the RAAF but the war ended just as he completed his course in Australia.
Robert served in the army in the Korean War and Ann Rosalind, a sister, was in the WAAFS.

Charles enlisted in the RAAF on the 24 May 1940 in Brisbane QLD.
After Wireless/Air Gunner training at No. 1 WAGS Ballarat [Course 2] Charles was posted to the Middle East where for a time he served in a South African 24 Squadron carrying out bombing missions.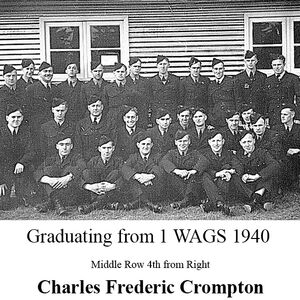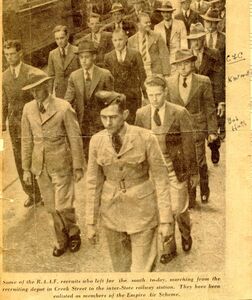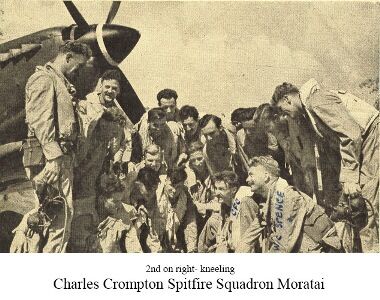 On the 21 August 1941, returning in a Glen Martin Maryland aircraft AA355 from a bombing operation on Gambut Aerodrome in the Middle East the aircraft was attacked by five ME109,s. Charles would recount this by saying that the enemy planes attacked from the west and looked "quite picturesque" against the evening sky being dark shapes with "fairy lights on their wings". Reality dawned when a shell struck the fuselage near his chest.
Later, after their tour of duty in the Middle East, Charles and five others from 1 WAGS Ballarat were offered the opportunity to return to Australia as Gunnery instructors or to train as pilots at Bulawayo in Rhodesia. They chose to train as pilots. The six were Charles Crompton, Doug Millar, Ted Myer, brothers Keith and Noel Nichol and Reg Calvert.
Noble Six Hundred The Story of the Empire Training Scheme
by Vincent Adam Winter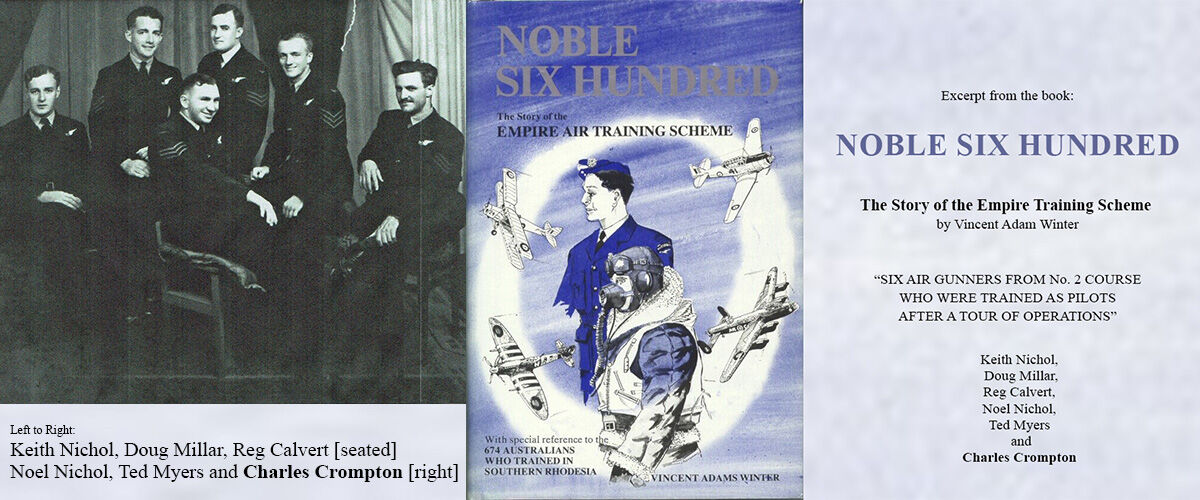 Excerpt from the book:
"SIX AIR GUNNERS FROM No. 2 COURSE WHO WERE TRAINED AS PILOTS AFTER A TOUR OF OPERATIONS"
The six Sergeants from No. 2 Course who had enlisted on 27th May 1940 and been trained at No. 1 WAGS at Ballarat were posted to the Middle East to serve in the Western Desert with No. 24 Squadron, South African Air Force. After completing a tour of operations, they were offered the alternatives of returning to Australia, being commissioned and serving as gunnery instructors or being posted to Rhodesia to undertake a Pilot's course.
All six accepted the Pilot's course and were accordingly placed on a Canopus of British Imperial Airways to fly to Johannesburg.

After graduating as a pilot from No. 5 Course in Rhodesia Charles was posted back to the Middle East. As Charles was older than the 25 years to fly combat operations he subsequently was assigned as a Ferry Pilot flying fighters and bombers up to the front lines and flying back those aircraft in need of repair. On one occasion flying back over Libya his Spitfire's engine stopped ten minutes into the flight. The plane overturned in sand hills during the forced landing. Charles received facial injuries and was found by an Arab who returned him to base in the back of a donkey cart.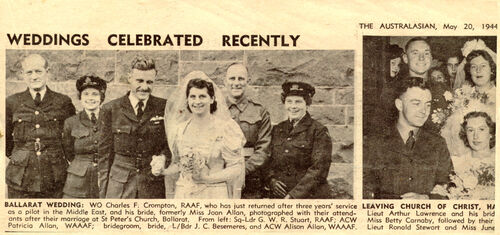 On returning to Australia Charles married Margaret Joan Allan in Ballarat on the 6 May 1944. They met whilst Charles was training at 1 WAGS Ballarat. Charles went on to be re-trained on Spitfires in Mildura, Victoria before being posted to join as a fighter pilot [without age restraint] to the famous No. 452 Spitfire squadron led by the equally famous Wing Commander Clive 'Killer' Caldwell. In December 1944 they flew from Strauss Air Base in the Northern Territory to Moratai in the Halmaheras.
During his service as a Spitfire Pilot Charles survived an incident flying over the Darwin cliffs where he and other pilots hit disturbed air from the forward planes and their Spitfires heeled over. "We took corrective action with flaps and rudder and waited for the air to grip the wings. Following recovery and cheesed off we returned to base."
When first at Moratai with its coral strip Charles was taking off with two other Spitfires when the lead plane belly-whacked on the strip sending clouds of coral dust into the air. Charles was full of praise for the Spitfire's Merlin engine as he and other wingmen were able to easily lift over the obstacle.

---

George William Sergio CROMPTON [1914-1942]
George William Sergio Crompton was born on the 10 November 1914 in Mackay Queensland
being two years older than his brother Charles.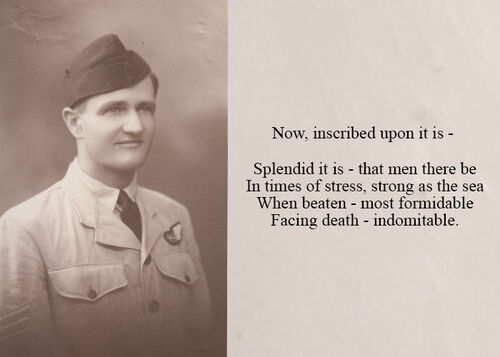 George made several attempts to join the RAAF, seven applications in all [1932, 1935, 1937x2, 1938 and 1939x2]. It was after his 8th attempt that he was accepted on the 20 January 1940 and officially enlisted in Brisbane on the 21 June 1940. After training at No. 2 Initial Training School at Bradfield Park NSW George commenced training at No. 1 Wireless Operator/Air Gunner School at Ballarat, Victoria on the 25 July 1940 [Course 3] and proceeded to No. 1 Bombing and Gunnery School, Evans Head NSW.
After being awarded his Air Gunners badge George was promoted to Sergeant on 13 January 1941. He embarked from Sydney for Canada on the 9 April 1941. After arriving in the U.K. George was one of thirteen Australian Air Gunners posted to No. 456 Squadron, an RAAF night fighter squadron based at RAF Valley, Isle of Anglesey.
On the 9 November George Crompton was one of three air gunners posted to No. 458 Squadron at RAF Holme-on-Spalding Moore in the East Riding of Yorkshire. The 458 Squadron initially was deployed on bombing operations over France and Germany as well as mine laying sorties along enemy coasts. This continued until the end of January 1942 when the squadron was withdrawn from Bomber Command and ordered to the Middle East. The squadron was left stranded for about a month in Malta before going on to Egypt where many of the crews were attached to various RAF squadrons.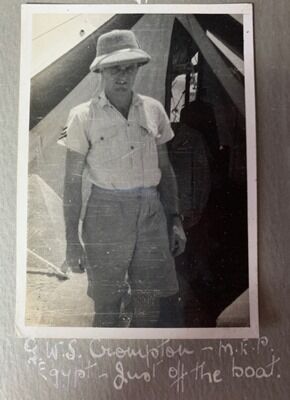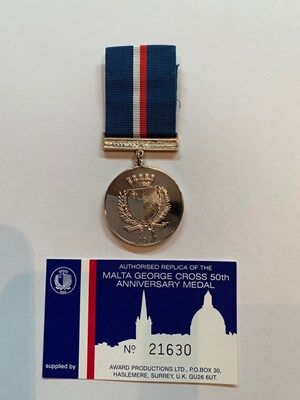 Whilst at Malta George wrote of his experience defusing a bomb and manning an Ack Ack gun:
"It was rather a nice trip out here we came by air. I.e. flew.
I rather liked Malta a nice place for a holiday even
though a few bombs fall there at times during the day.
I had a few experiences there with 4 others.
I volunteered to dig up a delayed action bomb,
while we were digging it up an air raid started
so we kept digging until the Huns were nearly
overhead then we all got down in the hole,
as flack was falling round us.
We got it out all right & all was well. I spent quite a
time on an Ack, Ack Battery and we learnt
quite a lot of good gen from them which
will be of much use to us later."
George and other air crews were ordered back to the U.K. for torpedo training and travelled with RAAF pilot Bill Fordyce on the aircraft carrier HMS Archer. Later in the U.K. George and Bill met up again in hospital. Bill having appendicitis and George with an unknown illness.
Bill and George became firm friends and were reunited at No. 1446 Ferry Training Flight at RAF Moreton-in-Marsh to be trained for ferry flights in the Middle East.
Three other airmen joined Bill and George to form a scratch crew detailed to fly a Wellington Bomber to North Africa. They were: Pilot, Sergeant Leonard William Mears; Canadian Observer Sgt Richard Arthur Greene and Wireless Operator/Air Gunner Sgt George Maxwell.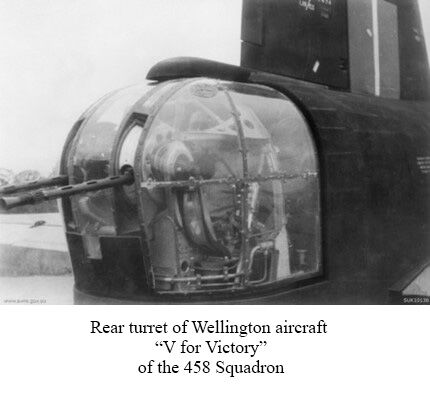 This crew flew Wellington HX580 to Gibraltar and the following day departed on the second stage of the transit flight to the Middle East.
Nothing further was heard from the aircraft after take-off. Later it was learnt that two German fighters [ME 109s] attacked the Wellington along the Egyptian coast .
With no front turret, beam guns or armour plating and its bomb bays and fuselage full of overload tanks the Wellington was an easy target and the first hits set fire to the hydraulic tank rendering the rear turret unserviceable.
Bill was later to recommend the rear gunner for an award stating that:
"During the engagement Sgt Crompton displayed great courage and devotion
to duty and even when shot in neck, body and severely injured
refused to leave turret and continued at his post until killed."
The Wellington crashed 5 or 6 miles from the coast in deep water. Bill and the other crew survived but there was no sign of the rear turret or the air gunner's body.

The man who Bill Fordyce, very emotionally referred to as "my beloved friend George Crompton" and who, for eight years had harboured such desire to join the RAAF, had survived for barely two years after being accepted.
Bill and the three other crew found themselves Prisoner of War by the Italians.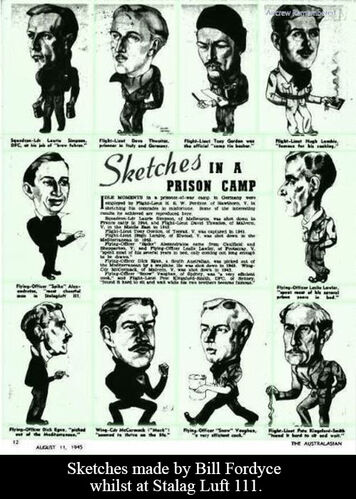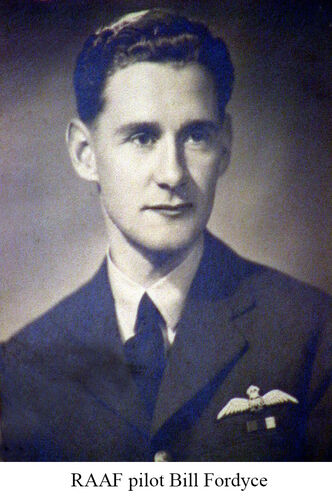 Bill being an officer was separated from the others and after moving from camp-to-camp in Italy under harsh conditions, was sent to the German camp Stalag Luft 111 at Sagan in Poland.
The three Sergeants, Mears, Maxwell and Greene were believed to have been transported to Italy by ship as POW's. Bill Fordyce later recounted that the rest of his crew did not get to Italy as POW's but perished at sea when the ship transporting POW's was sunk by a submarine.
Bill was in the same Italian prisoner of war camp as Jack Kroger of Melbourne. Jack Kroger made his escape from a train going north and this escape was the subject of the film "Ryan's Express." Bill was unaware of this but believes he could well have been on the same train.
At Stalag Luft 111 Bill's artistic ability was used in drawing images of the men and eventually in assisting the escape committee in producing maps and documents. This would later be known as the Great Escape. Bill Fordyce was number 86 to escape via the tunnel however the Germans discovered the tunnel and Bill had to turn back or be shot.
Seventy-six men made it out and the escape was portrayed in the Hollywood film "The Great Escape". Fifty escapees were murdered by their captors.
Bill was one of 3000 POW's who were hurriedly moved out of camp and marched 100 miles to Lubeck on the Baltic coast.
On the 2 May 1945 the POW's were finally liberated by the British Army. Bill and five others managed to get to Antwerp by various means where they were airlifted to RAF Dunsford in Surrey.
Bill was discharged on the 21 October 1945. After the war he worked as a commercial airline pilot with Australian National Airways.
Horace Spencer Wills "Bill" died on the 12 February 2008 aged 93.
Acknowledgements:
Our thanks to Mr Ken Crompton, son of Charles Frederic Crompton for allowing us access to information, photos and documents regarding his father and uncle who trained at 1 WAGS.
Links:
30.07.1942 No. 1 OADU Wellington 1C HX580 P/O. Horace Spencer Wills "Bill" Fordyce (aircrewremembered.com)
Australians at War Film Archive (unsw.edu.au)
Australians at War Film Archive (unsw.edu.au)