Warrant Officer Frank Windmill
RAAF 409637
Warrant Officer Frank Windmill was born on the 20 April 1920 in Coburg, Melbourne. He was the only child of Aubrey George Beddes Windmill and Amy Margeurite Astall. Prior to enlisting in the Royal Australian Airforce Frank's occupation was listed on his enlistment document as 'carpenter'.
Frank Windmill enlisted on the 12 September 1941 in Melbourne Victoria and completed his Initial Training at Victor Harbour South Australia. On the 13 November 1941 Frank commenced training at No. 1 Wireless Air Gunners School Ballarat Course 20. It should be noted that of the eighty trainees who completed 1 WAGS Course 20 , thirteen were killed in action or on active service. Only Frank became a POW.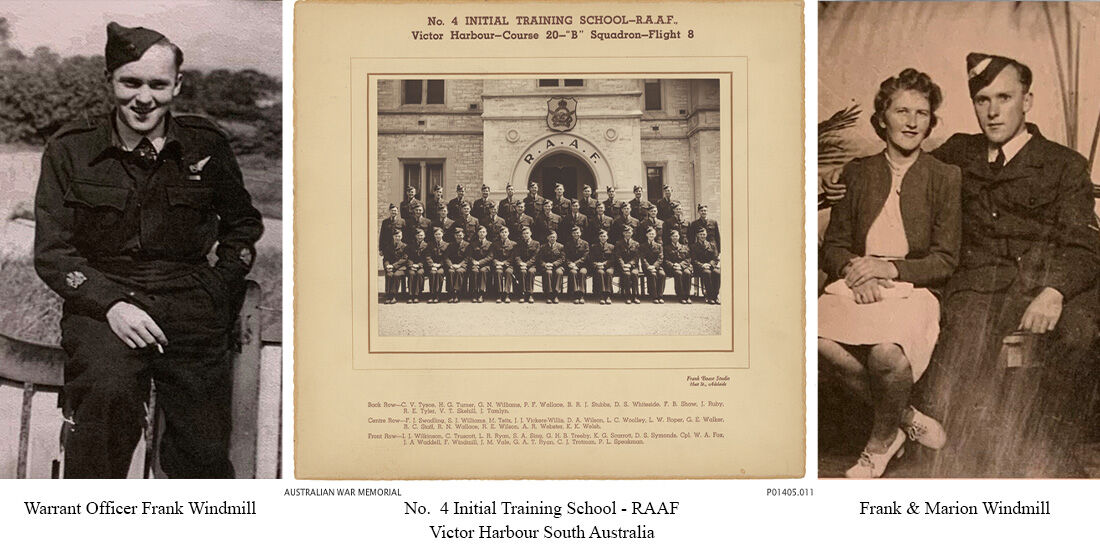 After graduating as a Wireless Operator in Ballarat Frank was posted to No. 3 Bombing Air Gunners School in Sale, Victoria for Gunnery training.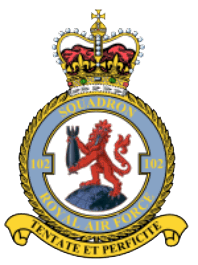 During his time in Ballarat Frank met and married local Ballarat girl Marion Elizabeth Lancaster. Frank and Marion married in April 1942.
In August 1942 Frank Windmill sailed from Sydney, Australia only four months after being married. They sailed via Albany and Durban in South Africa then on to England to take-up a posting to the RAF Halifax Heavy Bombers 102 Squadron.
In 1940 the squadron was loaned to RAF Coastal Command and spent six weeks carrying out convoy escort duties from RAF Prestick, before resuming bomber raids. By February 1942 the 102 Squadron was flying the Handley Page Halifax and continued for the next thirty-six months to fly night sorties , including the thousand bomber raids over Germany. In 1944 the squadron attacked rail targets in France in preparation for the invasion.
The Halifax heavy bombers were powered by 4 Rolls Royce Merlin engines which had a range of 1740 km and a top speed of 450 km/hr. During their service with Bomber Command, Halifax's flew a total of 82,773 operations and dropped 224,207 tons of bombs while 1,833 aircraft were lost. The Halifax was used primarily in night bombing attacks on German cities. However, it was less successful in that role than the Lancaster, and significant numbers of Halifax's were used for maritime reconnaissance, as glider tugs, as Para troop transports (particularly in drops of arms and agents to Resistance fighters in German-occupied Europe), and as transports for personnel and high-priority cargo. More than 6,000 Halifax's were built before production ceased in 1946,
That Fateful Operation - 22 September 1943
Frank Windmill's 12th Operation with the 102 Squadron

On the night of the 22 September 1943 Halifax 11 HX 154 serial letter "K" flew out of Polkington RAF Base, England.
The seven crew were:
F/S J Hanby (P), P/O F J Williams (Nav), Sgt A Taylor (W/Op), Sgt R Maund (A/G), F/S F Windmill (A/G), Sgt H Edlin (Eng), and Sgt C Anderton (Bom).
Having bombed their target in Hanover, on the return journey about twenty miles south-west of Hanover their Halifax bomber developed engine trouble. The starboard inner engine over- revved causing the propeller to shatter and it cut a whole in the aircraft. The vibration from the shattered propeller then caused the engine to tear itself out of the wing and fire broke out in the wing cavity. With fire in the wing spreading to the fuselage, there was no option but to bail out.
Frank described his 'swan dive' out of the disabled aircraft causing him to lose his flying boots in the slip stream. Frank landed in a field and was reunited with the pilot and navigator at Hildersheim. The Bomb Aimer Sgt Anderton was injured bailing out. The Halifax crashed near Hanover with the mid-upper gunner Sgt Roland Maund being the only fatality. His body was seen by the Wireless Operator Sgt Alec Taylor and recognised by his flying boot found near the wreckage. Taylor was to wear this boot for the duration of his capture in Germany. Unfortunately, he endured 'two left boots'.
The crew were all rounded up within twenty-four hours and taken to Frankfurt for interrogation. Frank was captured at Hamelin by two German soldiers. Frank and his crew began twenty months as POW's being initially sent to the POW camp Stalag Luft V1 in Heydekrug, East Prussia, the most northern POW camp in WW2. Eight months later, in July 1944 they were sent to Stalag 357, firstly, at Thorne in Poland where they stayed for a month and then on to Fallingsbostel for the next 10 months.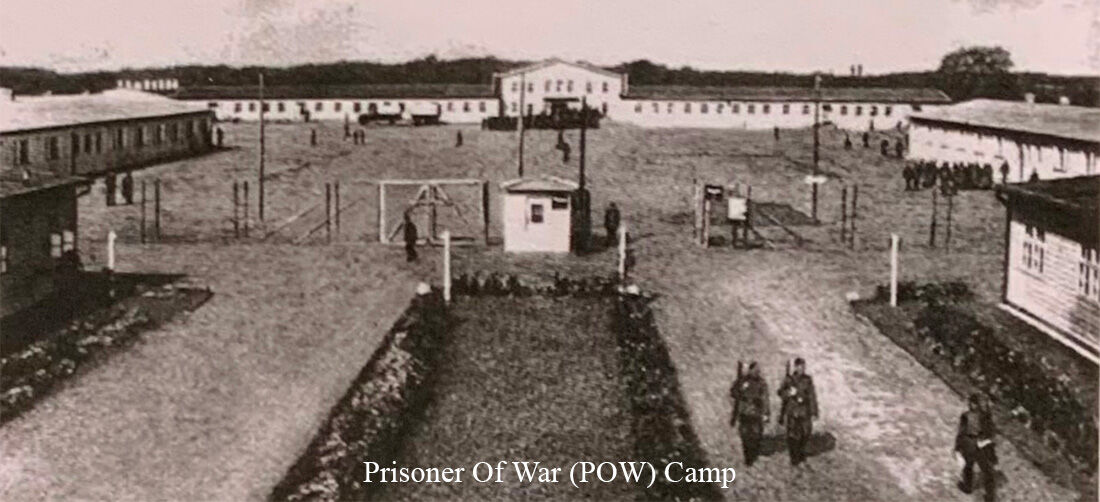 In the mid 1944 there were some 96,000 POW's in the camps and sub-camps in Fallingsbostel. There was severe overcrowding, poor quality food and lack of medical supplies. Later recollections by Sgt Taylor stated "Days were spent scrounging for food and walking around the camp to fill in time. There were eighty men to a hut with one loaf of bread between seven, jam coloured with beetroot, turnip soup, potatoes and horse meat. Sometimes Red Cross parcels were given to POW's and letters from home arrived every couple of months. These were very much welcomed".
In January 1945 the Russians were advancing towards the camp and forced marches on foot were implemented. 12,000 POW's including Frank were marched out north-east with all they could carry in columns of 2,000 strong. The weather was cold, wet and snowing and the only food was what the men could scrounge along the way. Frank having an injured foot couldn't continue with the march and a German Sergeant stayed with him. Luckily for Frank he survived as many POW's who couldn't keep up were bayonetted or shot.
By March 1945 the Allies crossed the Rhine with the British and American troops advancing to the river Wesser. Frank and his fellow POW's were finally liberated by the British Army on the 2nd May 1945 with Frank arriving back in England by June 1945.
That fateful night when Halifax 11 154 crashed 711 aircraft participated on the raid to Hanover and 28 didn't return.
Frank Windmill at the age of 23 had survived twenty months as a POW but paid a heavy price. He had lost 14 kg and was 6 stone when he was liberated. He suffered from diphtheria and was almost starved. He spent some time In England fattening up before being repatriated back to Australia. Frank's experience would have a profound impact on him for the rest of his life.
Frank arrived back in Australia on the 28 July 1945 after a 5 week trip from England. He was promoted from Flight Sergeant to Warrant Officer during his internment in Germany. He spent 6 weeks at Bradfield Park in Sydney and then 2 weeks at Ransford RAAF at the Melbourne Cricket Ground.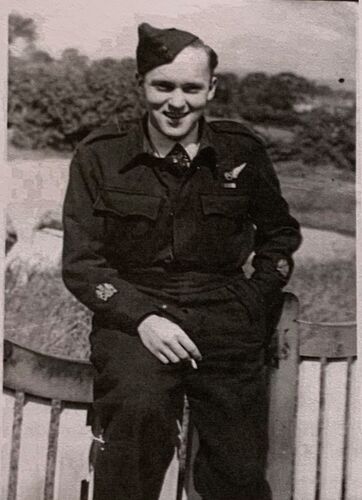 He was discharged on the 30 October 1945.
Warrant Officer Frank Windmill became a proud member of 'The Caterpillar Club'. Membership being awarded to those whose lives were saved by parachute.
Frank and Marion resumed their married life and went on to have six children.
Frank Passed away on the 1 July 2004 at the age of 84.
Acknowledgements:
Many thanks to Trevor and Ray Windmill, Frank's sons, for their generosity in allowing us to tell Frank's story. In doing so providing access to writings and photos of Frank and his POW experience.
We also acknowledge the article written by Sgt Alec Taylor, Wireless Operator and fellow crew member who wrote about his experience as a POW with Frank. The article was published by WW2 Peoples War.' Two Left Boots'. BBC
LINKS:
Wikipedia - No. 102 Squadron RAF
Handley Page Halifax
Britannica - Halifax aircraft
BBC -WW@ People's War
Royal Air Force Commands