Wing Commander James Eric REYNOLDS
'A Distinguished Career of Dedicated Service'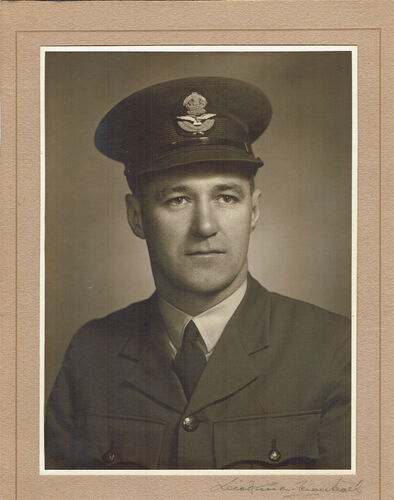 James Eric Reynolds was born on the goldfields of Western Australia in Boulder City on the 15th December 1902. He was the only child of Fanny [nee Brooks] and John Reynolds.
John Reynolds emigrated to Australia from Glasgow in 1881 with his older brother James and after working on an orchard farm in South Australia, John walked to the goldfields of Kalgoorlie to seek his fortune. Here he met and married Fanny Brooks and their only child James Eric was born.
James Eric Reynolds attended Woodlupine Brook [Queens Park] Primary School Western Australia and later Perth Boys High School. In his early teens James had an interest in Technological advancement after the discoveries made by Marconi and others. He made himself a " crystal set" and people from neighbouring farms would call at the house in Queens Park and watch in wonder while he sent and received messages in Morse Code. He wanted to go onto University, but his father's health was deteriorating and after his death James was required to find work to support his mother. He obtained employment with Richard Purser and Co in Perth, an agricultural machinery business where he worked for four years. During this time James managed to fit in night classes to enable him to sit for and pass tests in order to gain the qualifications for a First-Class Certificate of Proficiency in Radio Telegraphy. He became a "Spark", the term used at the time.
Becoming a qualified " Spark" enabled James Reynolds to Join the Merchant Navy as a Wireless Operator, 3rd Class and he signed on his first ship "Centaur" on the 9th May 1925. His service records indicated that he also served on two other vessels, "The Kangaroo" and "Sir William Matthews". He received his 2nd class Certificate in April 1927 and two months later resigned from the Navy so he could join the Airforce. [ During WW2 on May 14th, 1943 a Japanese submarine sank the Centaur killing 268 people – 45 Seamen, 212 Army Medical and Field Ambulance personnel and 11 Army Nurses. The Centaur was marked as a hospital ship.]
After enlisting in the RAAF James Eric was posted to Richmond Aerodrome N.S.W on the 27th July 1927 as a Wireless/Telegraphy Electrical Mechanic, No. 3 Squadron. He spent a few weeks in hospital [Richmond] with pneumonia that year and met and later married one of the nurses Freda Wood.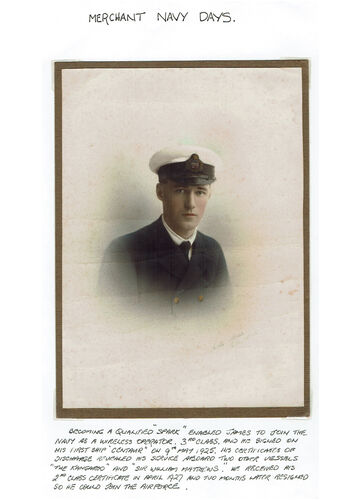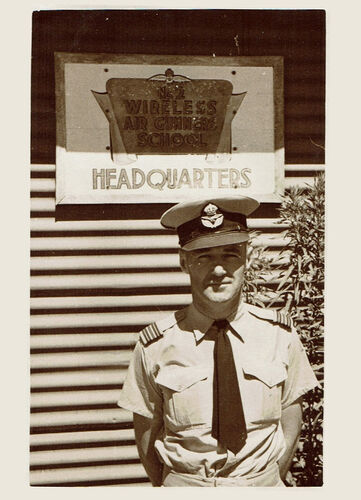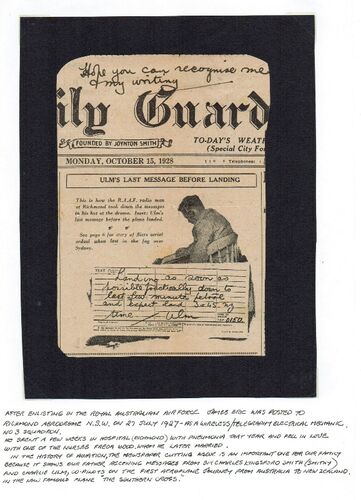 On October 15th, 1928 a newspaper article depicts James Eric Reynolds receiving messages from Sir Charles Kingsford Smith and Charlie Ulm, co-pilots on the first aeroplane journey from Australia to New Zealand in the now famous plane " The Southern Cross". That same year James was posted away from Richmond Air Base to an experimental section of the RAAF at Randwick N.S.W. While at the Base James Reynolds wrote about Wing Commander Wackett who was designing a new training aircraft the "Widgeon". W/CMD Wackett specifically asked for James Reynolds to be his Wireless Operator. The Widgeon crashed on the 3rd May 1928.
On the 14th December 1929 James [now known as John] married Freda and over the course of their marriage had four daughters, Margaret, Helen, Joan and Carol.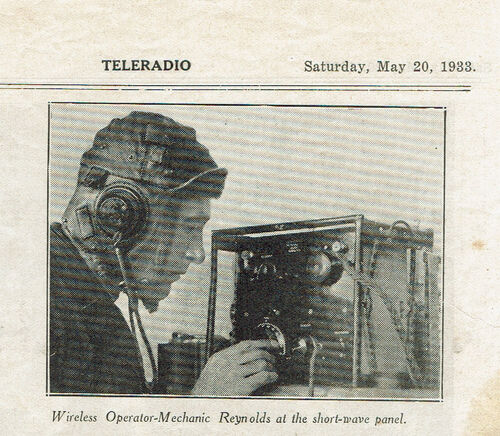 During the 1930's James Eric Reynolds was promoted through the ranks in the Royal Australian Air Force achieving L.A.C, Corporal, Warrant Officer [Signals] and Sergeant. In 1938 he was posted to Laverton Victoria and the family took up residence in Essendon. After World War 2 was declared in September 1939 John Reynolds was posted to Point Cook Victoria. By June 1941 James was granted a Commission to Flight Lieutenant.
During the years of WW2 James Eric Reynolds was involved in top secret Radar unit responsibilities. Due to the nature of his service James's family were not allowed to know his where abouts and only saw him during brief periods of leave. Meanwhile James was establishing various RAAF Radar units around our shores. Like many ex-servicemen James rarely spoke about his experiences after the war however the importance of his work cannot be underestimated.
By 1942 James Reynolds was promoted to Squadron Leader and 1n 1943 was posted to No. 2 Wireless Air Gunners School at Parkes N.S.W. as Commanding Officer. He remained at Parkes for 12 months until he was transferred in February 1944 to No. 3 Wireless Air Gunners School Maryborough Queensland. Over the next twelve months until the end of WW2 James Reynolds served at Adelaide River, Northern Territory and 58 Mile Northern Territory. He was then posted to 1 Personnel Depot Ransford [1945], Radio Development and Installation Unit Croydon [1945], 1 Aircraft Performance Unit Laverton [1946], RAAF Head Quarters Melbourne [1947].
On the 15th June 1948 James was posted to the Air and Ground Radio School Ballarat as Wing Commander. This school was the former training base for No. 1 Wireless Air Gunners School during WW2. He remained in charge of the Ballarat Base with his family until June 1952. His eldest daughter Margaret tells the story of her mother not wanting to be separated from James as was the case during his Radar Unit service, so the family lived in Officers Accommodation on the base. This building still exists today at the Ballarat Airport.
By 1952 the school was known as RAAF School of Radio. Over 4000 Communications, Radio and Radar tradesmen and Aircrew Signallers were trained at the school between 1945 and 1961 when the school was transferred to Laverton. Many of the graduates served in RAAF squadrons overseas, including the Malayan Emergency, Korea and Vietnam.
In December 1955 James Reynolds was transferred to Laverton and on the 15th December 1955 Wing Commander Reynolds received on his 55th birthday his RAAF Certificate of Service and Discharge. A long and distinguished career of service for his country.
Movements in his RAAF service were -
Proceeded on duty to Morotai 11 September 1945. Returned 15 September 1945.
Proceeded to Singapore and Colombo 27 September 1953. Returned 30 October 1953.
Honours and Awards –
Mentioned in Despatches
Defence Medal
War Medal 1939-45
Australia Service Medal 1939-45
Long Service and Good Conduct Medal
Returned from Active Service Badge
In 1956 James Eric Reynolds became Instructor of Radio at the Royal Melbourne Institute of Technology. [R.M.I.T.] He retired in 1969 at the age of 67.
In 1971 James received the Long Service Award – Institute of Radio and Electrical Engineers.
On the 29th May 1976 James Eric Reynolds passed away.
Many thanks to Margaret Bennett eldest daughter of James and Freda for sharing her research about James and his family with the AFA Ballarat Branch and the 1 W.A.G.S. website 1wags.org.au
Margaret at the age of 90 is an active member of the AFA Ballarat Branch. Margaret's husband A.J. Bennett RAF was President of the AFA Ballarat Branch in 1999 and 2000.
Margaret says,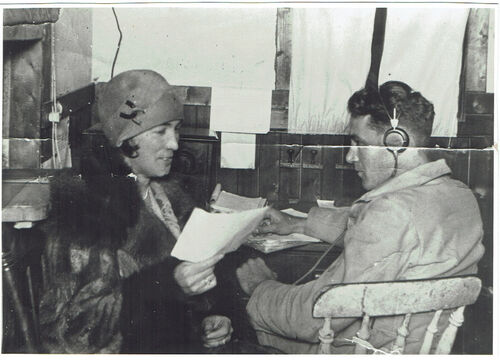 "James Eric married Freda Aston nee Wood in 1929 after taking up his posting as an L.A.C at Richmond, New South Wales. Ten years later when the family moved to Victoria WW2 was declared and our father spent the next five years away from his home in Essendon for long periods. Fortunately, he returned safe and well. Many did not.
My father had a strict Christian Baptist up bringing by stern hard-working parents. He was a staunch patriot " Do the right thing" was his motto and his expectations were high to live up to. I held him in awe all my life but remain grateful and indebted to him for his love and care of me. After years of research and travel I am happy to pass on this information he would never tell us about himself."
Margaret Bennett along with members of the AFA Ballarat Branch have been invited to attend No. 13 Radar Station Cape Otway, the Interpretive Exhibition and Dedication Ceremony on the 19th June 2021.
Margaret will be a guest of honour and represent the achievements of her father James Reynolds in establishing these top-secret Radar Bunkers during WW2.
---
No 13 RADAR STATION CAPE OTWAY, RAAF RADAR INTERPRETATIVE EXHIBITION~DEDICATION CEREMONY
A Dedication Ceremony for the 13RS Cape Otway RAAF Radar Interpretive Exhibition was delayed when it opened in June 2020 due to COVID 19 restrictions. We have now been advised that the Dedication Ceremony has been scheduled for Saturday 19 June 2021 at the Cape Otway Light- station precinct. Although details are still being fi­nalised, the actual ceremony will occur around 12.30 pm. June is the month that No 13 Radar Station Cape Otway became operational in 1942, but the Dedication Ceremony 79 years later will be the fi­rst formal celebration of its existence. This wonderful walk and exhibition has been a collaborative effort between AFA Radar Branch President Chris Harneth and his team and the Cape Otway Light- station......... yes, the light- station is part of this exhibition. The interactive entrance board at the start of the walk acknowledges, at the bottom of the board, contributions made by individuals that made the project possible, including "the generous donation by Marg Bennett in memory of her father Wing Commander James Eric REYNOLDS"
Noel Hutchins President AFA Ballarat Branch - Excerpt from AFA Ballarat Branch April/May Newsletter 2021.
Unfortunately, this Dedication Ceremony has been POSTPONED AGAIN due to Covid.
Planning is underway for an alternative preferred date of Saturday 23 October2021.
As advised by Chris Harnath- President AFAV RAAF Radar Branch/Victorian RAAF Radio Association