Featured Story
VALE
Warrant Officer Tom Runnalls
9 July 1924 – 16 September 2022 Age 98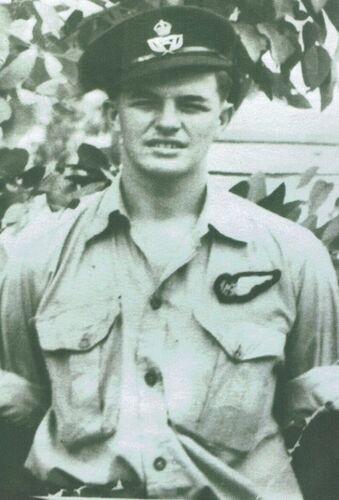 Tom Runnalls joined the local ATC [Air Training Corps] and later after the outbreak of WW2 at the age of 18, enlisted in the RAAF. After completing his Initial Training at No.1 ITS Somers, Tom was posted to No. 1 WAGS at the Ballarat aerodrome. He completed Course 32, November 1942 to April 1943, fi­nishing 4th in his Course. He then travelled to No. 2 BAGS [Bombing Air Gunners School] to complete the gunnery section of his course.
Tom was eventually posted to No. 20 Squadron in Cairns as a crew member of the Catalina Flying Boats. Operations that Tom's crew were involved in were to mine Japanese harbours in the Caroline Islands. His plane and crew were based on a US Navy Sea plane Tender "USS Tangier" moored off Manus Island NE of New Guinea.
By 1944 Tom was posted to Darwin to continue crewing in Catalina Flying Boats with further mine laying operations and served with No. 43 Squadron in the N.W Area from July 1944 until May 1945.
Tom was discharged on the 19th September 1945.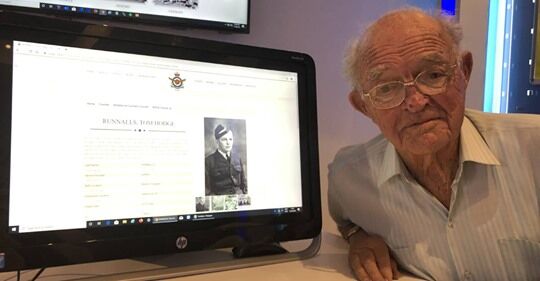 Warrant Officer Tom Runnalls was the guest at the launch of the
1 W.A.G.S Memorial Website on the 11th February 2020.
At the age of 95 he represented all 1 W.A.G.S trainees who served in the RAAF during WW2.
Those who made the ultimate sacrifice and those who returned to their families.
Nineteen of the ninety-two trainees in Tom's Course 32 were killed.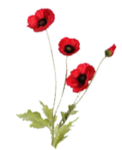 ---
Featured Story
The FEATURED STORY pays tribute to a person, and or event, connected to 1 W.A.G.S Ballarat.
The story commemorates the valiant RAAF 1 W.A.G.S trainees who served in WW2 in all theatres of war – those who lost their lives and those who returned.
The FEATURED STORY honours -
THE CROMPTON BROTHERS
RAAF brothers Charles Frederic Crompton 404138 and George William Sergio Crompton 404207
trained as Wireless Operators/Air Gunners at No. 1 Wireless Air Gunners School in Ballarat, Victoria.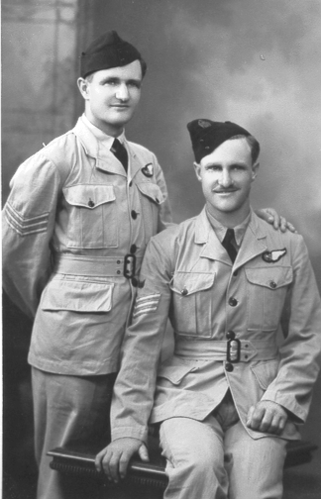 This training formed part of The Empire Air Training Scheme to supply England with aircrew
to support the RAF in their battle against Germany during WW2.
Charles completed Course 2 [intake 27 May 1940] and George Course 3 [intake 25 July 1940].
Both boys received their gunnery training at No. 1 Bombing Air Gunnery School Evans Head New South Wales.
George William Sergio Crompton Wireless Operator / Air Gunner was killed 30 July 1942
serving in the Middle East with the 458 Squadron.
Charles Frederic Crompton was posted to the Middle East where for a time he served in the South African 24
Squadron carrying out bombing missions. After his tour of duty Charles trained as a pilot and flew Spitfires
both in the Middle East and the Pacific.