Featured Story
Featured Story
The FEATURED STORY pays tribute to a person, and or event, connected to 1 W.A.G.S Ballarat.
The story commemorates the valiant RAAF 1 W.A.G.S trainees who served in WW2 in all theatres of war – those who lost their lives and those who returned.
The FEATURED STORY honours -
VALE - Warrant Officer John Robert (Jack) BELL
20th December 1917 - 26th November 2021
Age 103 one month shy of his 104th Birthday.
Jack trained at No 1WAGS Course 2 .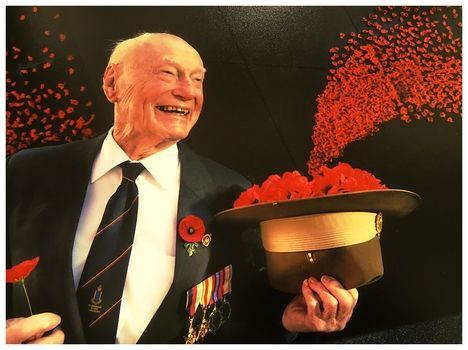 In 1942 Jack's Bristol Bombay aircraft was shot down over North Africa. Jack and his crew became POWs of the Germans and Italians. Severely wounded Jack survived his internment under harsh conditions and was repatriated back to Australia in July 1945.
Jack Bell was the first Feature Story as part of the 1WAGS website.
The Air Force Association Ballarat Branch remembers Jack as an unassuming gentleman who was always
interested in the Branch activities.
A truly inspirational man who through his experiences as a POW gave a profound message of
Respect and Compassion.
1 W.A.G.S AND THE 460 SQUADRON
No. 1 Wireless Air Gunners School Ballarat trained airmen as Wireless Operators and Air Gunners as part of the Empire Training Scheme. This was to provide crews for the depleted R.A.F Squadrons in their fight against Germany.
There were five main RAAF squadrons:
No 460 flying Wellingtons then Lancasters
Nos 463 and 467 flying Lancasters, and
Nos 462 and 466 flying Halifaxes.
Nos 455 and 458 Squadrons were initially also part of Bomber Command.
There were one hundred and two 1 W.A.G.S trainees who served in the 460 Squadron in Bomber Command. Of these sixty-nine were killed, two being POW's and two awarded the Distinguished Flying Cross.
Thirty-three 1 W.A.G.S trainees survived and returned home to their families. Thirteen were POW,s. and many were incarcerated for up to four years in German POW camps. Three were awarded the Distinguished Flying Cross, one also with Bar, and one OAM.